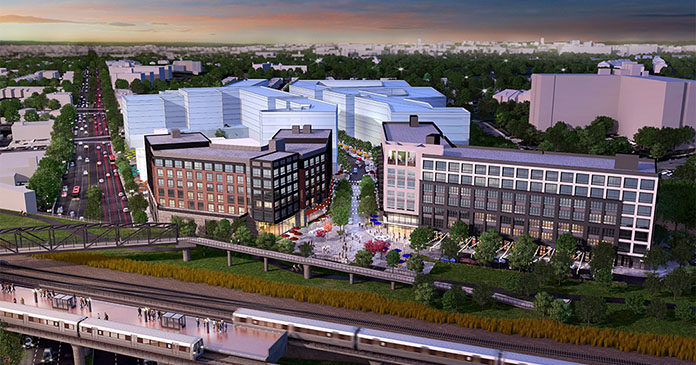 Holliday Fenoglio Fowler, L.P. (HFF) announces it has secured joint venture equity and construction financing totaling $191.8 million for the development of Phase I of Bryant Street, a mixed-use, transit-oriented development in northeast Washington, D.C.
HFF worked on behalf of the developer, MRP Realty, to arrange a $59.8 million joint venture equity partnership with FRP Development Corp. Working on behalf of the new partners, HFF also secured $132 million in construction financing through a national bank.
Bryant Street is being developed near the intersection of Rhode Island Avenue and Fourth Street adjacent to the Rhode Island Metro Station (Red Line) and the Metropolitan Branch Trail, a multiuse pedestrian/cycling path that is used by more than 1,200 commuting cyclists daily. The project is situated within the high-barrier-to-entry neighborhood of Edgewood between the established and rapidly growing neighborhoods of Eckington and Brookland.  In addition to the neighborhood restaurants, breweries and other local nightlife, Bryant Street is easily accessible to Ivy City, Union Market, a newly opened Trader Joe's and hotspots such Red Hen and Big Bear Café. Phase I of the development will feature three mid-rise buildings comprising 487 multihousing units, a nine-screen Alamo Drafthouse Cinema and an additional 38,482 square feet of ground-floor retail. At full build out, the 13-acre, LEED-certified project will feature 1,500 residential units, 250,000 square feet of retail, 1.5 acres of green space and up to 2,000 below-grade parking spaces for residents and visitors.  Construction commenced in February and Phase I is due for completion in spring 2021.
The HFF debt and equity placement team was led by Stephen Conley, Walter Coker, Brian Crivella, John Owendoff, Daniel McIntyre and Cary Abod.
"Edgewood and the surrounding communities near Bryant Street have a rich history and we hope we can build on the great offerings that already exist," MRP Principal John Begert said.  "We are very excited to have the financing in place to bring this multi-modal neighborhood to life."
---
About MRP Realty
Founded in 2005, MRP Realty is a real estate operating company focused on opportunistic and value-add investment in the northeastern United States, with offices in Washington, D.C., Maryland, Virginia, Pennsylvania and New York City. MRP provides to its institutional capital partners a full array of real estate services, including acquisition/disposition, development/construction management, property management, asset management and financial reporting services.  Since the company's inception, MRP has deployed over $4.6 billion in total capitalization. MRP's combined development assets total more than 25 million square feet, with an additional 10 million square feet under management.
About FRP Development Corp.
Along with its sister company, Florida Rock Properties, Inc. (FRP) is a Maryland-based, full-service development company specializing in commercial, mixed-use and industrial real estate. Incorporated in May of 1989, the company is a wholly-owned subsidiary of FRP Holdings, Inc., a Florida-based company.
About HFF
HFF and its affiliates operate out of 26 offices and are a leading provider of commercial real estate and capital markets services to the global commercial real estate industry.  HFF, together with its affiliates, offers clients a fully integrated capital markets platform, including debt placement, investment advisory, equity placement, funds marketing, M&A and corporate advisory, loan sales and loan servicing.  HFF, HFF Real Estate Limited, HFF Securities L.P. and HFF Securities Limited are owned by HFF, Inc.