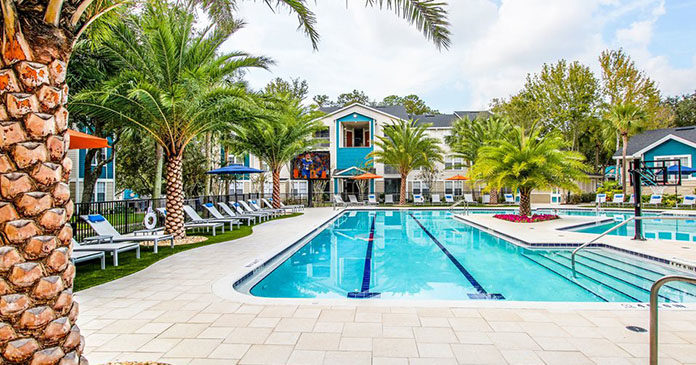 Park Partners Residential, a joint venture between Rosemurgy Properties and Giles Capital Group, is thrilled to announce the closing of a $27.3 million loan for The Niche student housing and a $11.5 million loan for The Nook student housing in Gainesville. Shortly after purchasing the Nook and Niche in 2017, Park Partners Residential completed renovations to both apartment communities. Värde Partners provided financing for both apartment properties. The HFF debt placement team was led by managing director Elliott Throne and director Jesse Wright.
"With the University of Florida being one of the top-rated schools in the nation, we wanted to offer student housing options that reflect the caliber of the institution," said Rick Giles, president of Giles Capital Group. "We were thrilled to bring these two iconic properties back into prominence for the students of Gainesville."
The renovations at The Niche included everything from the common areas and amenities to newly remodeled interiors. The improvements feature an upgraded fitness center and a complete makeover of one of the largest pool areas in town with a jumbo TV. New amenities were also added, including a resident lounge with private study labs and computer stations.
Park Partners Residential also renovated The Nook. The three- and four-bedroom apartments feature stainless steel appliances, plank flooring, and new furniture. Common area and amenity upgrades include the addition of new grilling stations surrounding a fire pit and seating area, as well as a new resident study lounge.
Ideally located off Archer Road and minutes from the University of Florida, The Niche and Nook apartments provide an elevated style of student living in Gainesville. The apartments offer a rent-by-bedroom program and offer a combined total of 372 units, with 1,356 bedrooms.
---
About Park Partners Residential
Park Partners Residential is a privately-owned developer, owner and operator of luxury multifamily apartment communities. Founded in 2015 with the intent of developing and acquiring residential real estate, the single-source and vertically integrated firm includes asset and property management, leasing, construction and renovation. Since its inception, this joint-venture partnership has acquired and developed over $300 million in multifamily real estate. Based in Boca Raton, FL, their focus includes development and value-add opportunistic acquisitions. The leadership team includes a team of executives with over 100 years of experience in managing, acquiring and developing over 25,000 units and over 1 billion dollars in commercial real estate in the Southeast Region.
About Värde Partners
Värde Partners is a $14 billion global alternative investment firm that employs a value-based approach to investing across a broad array of geographies, segments and asset types, including mortgages, corporate credit, financial services, real estate, mortgages, energy, real assets and infrastructure. The firm sponsors and manages a family of private investment funds with a global investor base that includes foundations and endowments, pension plans, insurance companies, other institutional investors and private clients. Now in its third decade, Värde employs more than 300 people globally with regional headquarters in Minneapolis, London and Singapore.
About HFF
HFF and its affiliates operate out of 26 offices and are a leading provider of commercial real estate and capital markets services to the global commercial real estate industry.  HFF, together with its affiliates, offers clients a fully integrated capital markets platform, including debt placement, investment advisory, equity placement, funds marketing, M&A and corporate advisory, loan sales and loan servicing.  HFF, HFF Real Estate Limited, HFF Securities L.P. and HFF Securities Limited are owned by HFF, Inc.