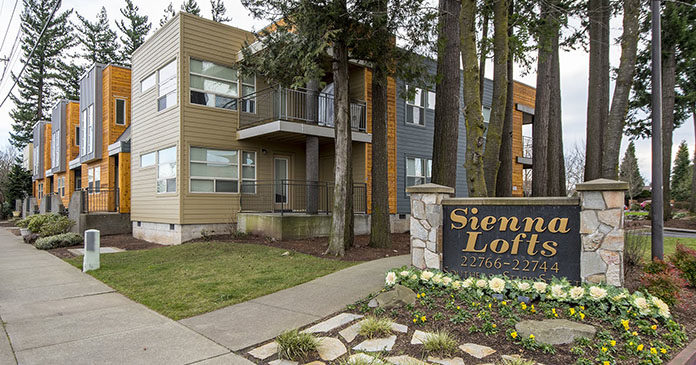 Pathfinder Partners, a San Diego-based firm specializing in opportunistic real estate investments, announced today that it sold its 75-unit Sienna Lofts property—located at 22744 SE Stark Street in Portland's Gresham neighborhood—for $14 million. The property was acquired by San Diego-based Street Properties, LLC and Street Properties, Inc
According to Lorne Polger, co-founder and senior managing director of Pathfinder Partners, Sienna Lofts was built in 2004 as a for-sale loft apartment community and acquired by Pathfinder in 2016 from a private seller. Since that time, Pathfinder has operated it as a rental community.
A two-story urban loft designed community, Sienna Lofts is situated on 3.15 acres and offers a unit mix comprised of eight studio units, 63 one-bedroom units and four two-bedroom units for an average unit size of 747 square feet. The homes feature stainless steel appliances, modern style laminate countertops, glass mosaic backsplash, upgraded plumbing and electrical fixtures, in unit washer and dryers and new flooring.
During the term of its ownership, Pathfinder completed common area improvements including the installation of a new dog park and leasing office, updated landscaping, corridors and an upgraded interior lobby with new flooring, light fixtures, furniture and artwork. Additionally, the buildings' exterior façade was completely reimagined and enhanced with cedar wood accents, new paint and siding.
According to Polger, "following the completion of the transformational renovations, we were able to significantly increase rents and ancillary income. Portland continues to grow with an increasing population, strong employment growth and a high demand for housing."
---
About Pathfinder Partners
Headquartered in San Diego, Pathfinder Partners was founded by Mitch Siegler and Lorne Polger in 2006 to make opportunistic and value-add real estate investments. Pathfinder has acquired or sold $1 billion of properties since inception. In addition to seeking opportunities to add value by providing liquidity to selling financial institutions, liquidating funds and fatigued owners, Pathfinder also seeks to maximize value through property enhancements, improvements in operations and marketing, property repositioning and other strategies.