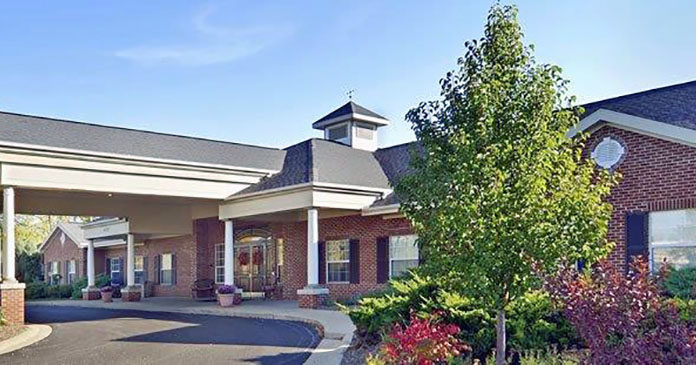 Pathway to Living, a Chicago-based developer, owner and operator of senior living communities, today announced it has completed $2.1 million in capital improvements at Azpira Place of Breton, an 81-unit assisted living and memory support community in Kentwood, Mich. Pathway acquired and has been managing the property, formerly known as Elmcroft of Kentwood, since February 2018.
Located at 4352 Breton Road SE, just under 10 miles from Grand Rapids, the community is Pathway's first in Michigan. It offers 69 assisted living residences in studio and one-bedroom layouts and 12 memory support residences in studio or shared-suite plans.
"In just over a year, we have transformed this property into a modern senior living community with a full suite of amenities and programs that will enhance and inspire residents to live meaningful lives," said Maria Oliva, chief operating officer of Pathway to Living. "We're thrilled to have retained most of the residents while also adding new ones throughout the renovation."
Kentwood Mayor Stephen Kepley, along with other city officials and local business leaders, attended a recent grand opening celebration for the community. "I want to really thank the owners and staff for the investment in the property, and also the investment in our community," he said.
Bob O'Callaghan, president and CEO of the Wyoming-Kentwood Area Chamber of Commerce, also attended the ribbon-cutting to show support from local business leaders. "Azpira Place of Breton has hit a home run," he said. "The updated community looks fantastic. Everyone is happy and friendly, from the staff to the residents, which reflects the wonderful job Pathway to Living achieved through this renovation."
Improvements to the property included upgrading common areas with new paint, carpeting and furniture throughout the community. A fireplace was added to the dining room, while the community room and demonstration kitchen were remodeled. A wellness center and therapy/exercise room were also added to further support a wellness-focused lifestyle.
Select apartment layouts were also reconfigured, as walls were removed in some units to convert them to one-bedroom apartments. All residences were updated with new paint, carpet and remodeled kitchenettes.
In addition, the memory support neighborhood was redesigned to complement Pathway to Living's A Knew Day memory support program and philosophy. Additional windows were installed to bring more natural light into the area, while interiors were enhanced with new artwork and furniture. The country kitchen was revamped as part of the renovation, and other additions included new programming space such as a music and sitting area, as well as resident laundry.
A Knew Day is Pathway to Living's signature approach to memory support, serving residents with Alzheimer's disease, dementia and other forms of memory loss. The program has been proven to provide rehabilitation for the brain—a process called rementia—helping seniors with memory impairment become more engaged and communicative.
All residents of Azpira Place of Breton will be enriched through Pathway to Living's award-winning VIVA! philosophy, where social, educational and recreational programs are matched with residents' interests, skills and desires. For example, ArtPATH teaches techniques used by famed artists, sculptors and curators while Lifelong Learning classes offer educational opportunities. Residents also will have the chance to participate in field trips and outdoor adventures organized by Pathway to Living, such as overnight camping trips.
"Azpira Place of Breton will join our other communities in providing both our A Knew Day and VIVA! lifestyles," said Oliva. "We hear from families who say the programming and personalized care have dramatically improved their loved ones' quality of life. Through these experiences, many of our residents are enjoying activities that they haven't been able to for decades, or for the very first time."
Set on a 5-acre site near the intersection of Breton Road and 44th Street, Azpira Place of Breton is conveniently located near retail centers and restaurants, recreational destinations including golf courses, and Gerald R. Ford International Airport.
---
About Pathway to Living
Founded in 1997, Pathway to Living (formerly Pathway Senior Living) is a Chicago-based developer, owner and operator of senior housing communities. The company's $436 million portfolio includes a wide range of community types—senior apartment, independent living, assisted living and memory care—spanning 33 properties and more than 2,900 units in Illinois, Michigan, Minnesota and Wisconsin. Pathway to Living implements best practices to deliver person-centered care while maximizing returns on behalf of investors and third-party owners. Since its inception, the company has managed $480 million in total investments.