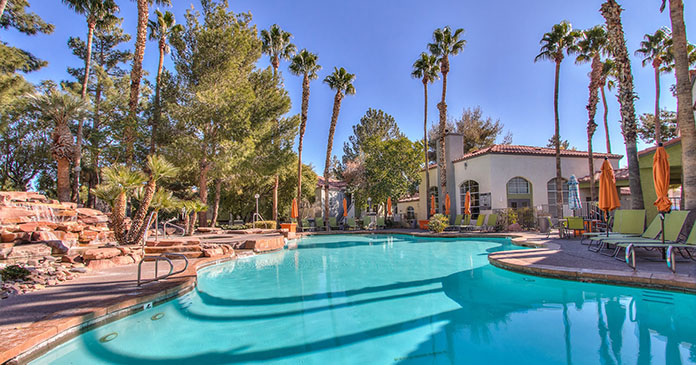 TruAmerica Multifamily (in partnership with an institutional partner) has acquired a two-property, 608-unit apartment portfolio of assets in the Las Vegas and Atlanta metros in an off-market transaction valued at $96.8 million.
TruAmerica in joint venture with its institutional capital partners has invested nearly $500 million this year in value-add apartment communities in Florida, Georgia, Nevada and Colorado. This is its second investment with this partner, after creating a joint venture in January 2018 that acquired a 635-unit portfolio of assets located in the Denver and Seattle metros for $127 million.
"We continue to see positive signs that the economic demand drivers for multifamily investment in our target markets are strong and will remain so for the foreseeable future," said TruAmerica Multifamily Head of Acquisitions and Co-Chief Investment Officer Matthew Ferrari. "Both of these markets exhibit strong job growth, stable occupancy projections, and a demonstrable supply/demand imbalance and we will continue to look for value add investment opportunities in these and other target markets throughout the United States."
The acquisition of the 368-unit Vintage Pointe in Las Vegas and the 240-unit Sweetwater Creek in the Atlanta suburb of Lithia Springs are the most recent examples of TruAmerica's commitment to those markets. With the acquisition of Vintage Pointe, TruAmerica has grown its portfolio in the Silver State to approximately 4,000 units since entering the market in 2016. After making its first investment in Atlanta earlier this year TruAmerica now owns four properties totaling nearly 1,400 units.
While well maintained, neither Vintage Pointe, built in 1994 nor Sweetwater Creek built in 2003, have benefitted from significant physical renovations providing the TruAmerica joint venture with strong value-add upside, according to Ferrari. The new ownership will invest in a multi-million dollar capital improvement program across the portfolio to reposition both properties on par with the competitive set in those markets.
---
About TruAmerica Multifamily
TruAmerica Multifamily is a vertically integrated, value-add multifamily investment firm based in Los Angeles. Founded in July 2013 as a joint venture between Robert Hart and The Guardian Life Insurance Company of America, TruAmerica has been one of the country's most active multifamily investors and manages an $8.5 billion portfolio of approximately 40,000 units across prime locations throughout Northern and Southern California, Washington, Oregon, Colorado, Arizona, Nevada, Utah, Maryland, Florida and Georgia.