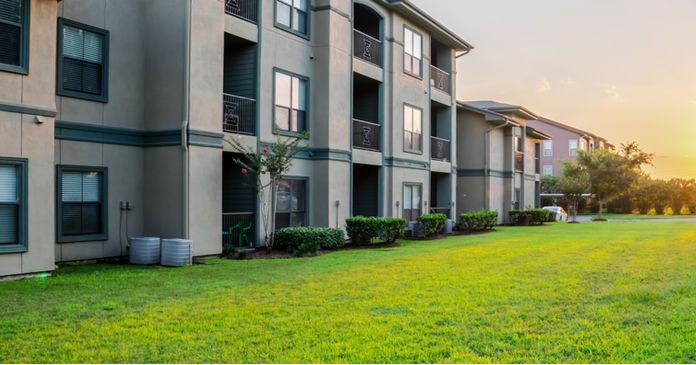 A recent report from Jack Robinson, Managing Director of Research at Bridge Investment Group, focuses on value-add Class B multifamily properties as an investment class. It concludes that they provide an attractive and recession-resistant investment opportunity.
Good fundamentals
The report reviews many of the fundamentals of the market for Class B rentals. While many of these may be familiar to the readers of Multihousing PRO, the report provides long-term data on how the multifamily housing market has shifted over the years. An example of this is represented by the following chart which is reproduced from the report.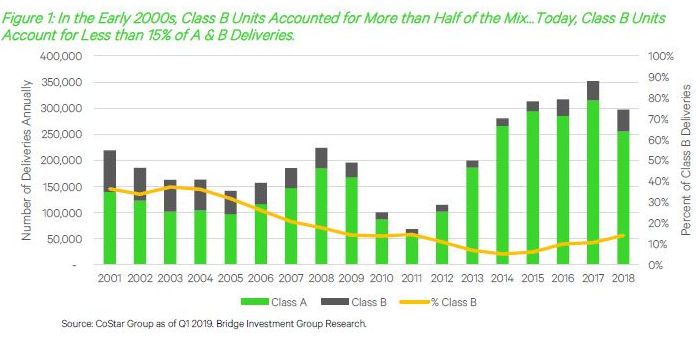 While it has been widely stated that the recent focus of development for multifamily housing has been on Class A properties, this chart shows the extent to which the shift to Class A has happened. It shows that in 2003 and 2004, nearly 40 percent of new Class A and Class B multifamily units delivered were in Class B properties. The portion of Class B properties fell as low as 5 percent in 2014 before recovering to around 10 percent in 2018.
A consequence for the high portion of new supply of multifamily units being in Class A rather than Class B is that the occupancy rates between the two classes has diverged. The report shows that, as recently as 2011, the occupancy rates of Class A and Class B multifamily properties were the same. By the end of 2018, occupancy of Class B properties was nearly 3 percentage points higher than that of Class A.
Another consequence of the shift of new supply to Class A properties is that the rate of rent growth in Class B properties has exceeded that in Class A properties for 26 consecutive quarters. The report presents data indicating that the rate of rent growth for Class B properties exceeded that of Class A properties by over two percentage points in 2016, although the growth differential has fallen to about 0.6 percent today.
Good opportunities
The report suggests that the unique position of Class B multifamily properties presents a unique opportunity today and some unique benefits in uncertain times.
The unique opportunity today is in value-add. By selecting the right property, making focused upgrades to it and providing excellent property management, purchasers of Class B multifamily properties can enhance both the property's NOI and its market value. This strategy takes advantage of the still-significant gap between the rents commanded by Class A properties over Class B
The unique benefit is due to the position of Class B multifamily housing between Class A and Class C. In the event of another financial downturn, some residents may be expected to abandon Class B properties in favor of Class C. On the other hand, Class B properties may be expected to pick up residents who are abandoning Class A units. Thus, their market position gives Class B multifamily properties an advantage over Class A properties in the event of a downturn.
A good investment
Despite the recent high level of construction of new multifamily units, the report documents that demand has kept pace with supply. It predicts that demographic trends in America will result in demand for 325,000 new multifamily units per year for the next 5 years.
The report also provides a 30 year view of changes in apartment NOI and in apartment building prices showing that long-term average returns have been good and that, even during the last recession, apartments were not hit as hard as other asset classes. This chart is reproduced below.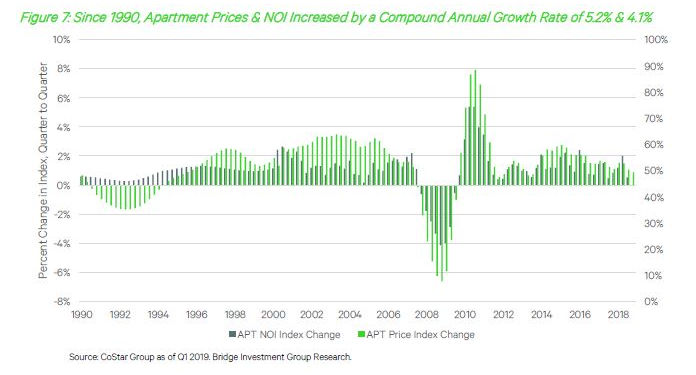 The report concludes that carefully selected Class B multifamily properties will continue to be a good investment in the years ahead. The full report can be found here.