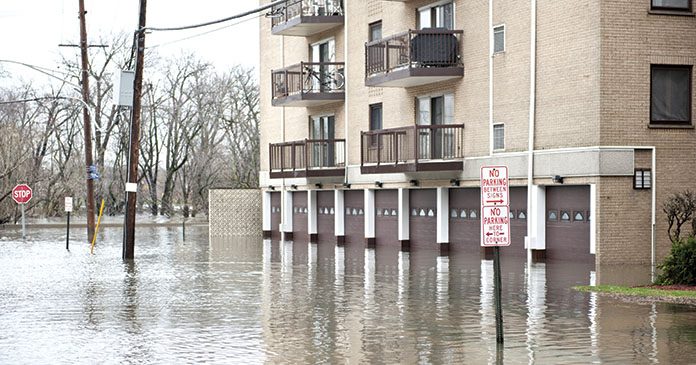 The National Flood Insurance Program Reauthorization Act of 2019 also delivered several key victories to NMHC and NAA members who have lobbied for a long-term reauthorization of the NFIP and sensible reforms that will protect taxpayers while ensuring that sufficient flood insurance coverage is available to all at-risk rental properties, in all market conditions. Most notably is the bill's inclusion of the following industry priorities:
Long-term authorization
The legislation reauthorizes the NFIP for 5 years. This is critical to ensure multifamily owners, operators and developers can secure the necessary flood coverage to finance their projects. Without this coverage in place, loans with any federal involvement are ineligible to close.
Multifamily mitigation
The legislation includes bipartisan language that requires FEMA to provide NFIP premium reduction to multifamily property owners to account for alternative methods of mitigation, such as utility system elevation, since they often cannot benefit from traditional methods like building elevation. NMHC and NAA have long called for allowing innovative mitigation measures to be recognized by FEMA/NFIP for premium reduction and incentivize owners to invest in pre-disaster resiliency steps. Additionally, the legislation creates a state revolving loan fund for flood mitigation. This loan fund would establish a critical funding source for rental property owners to invest in flood risk mitigation.
Umbrella NFIP policies for multifamily and commercial policies
The legislation includes language that authorizes FEMA to offer umbrella policies for commercial, multifamily and agricultural properties. This has been one of the key multifamily and commercial reforms that NMHC and NAA have called for throughout this reauthorization process. This change would greatly streamline and enhance the business efficiency of using the NFIP for apartment firms.
Increased cost of compliance coverage (ICC)
The legislation raises ICC coverage limits for all property owners from $30,000 to $60,000. Mitigation funds, such as these, will ultimately help property owners make their structures more resilient while reducing risk to the NFIP and the taxpayer.
Continuous coverage/continued access to the NFIP
The legislation ensures that both private and NFIP coverage satisfy the federal government's requirement of "continuous coverage" and protects policyholders from seeing rate hikes should they wish to return to the NFIP at a later date.
Affordability
For many property owners in a high-risk flood zone, affordability of NFIP (or other) coverage can be a challenge. The legislation repeals existing surcharges on rental and other property owners that lessen affordability of NFIP policies. The legislation also includes language to create an affordability demonstration program that aims to provide targeted financial assistance by way of premium discounts to low-income policyholders, including owners of small rental properties.
Mapping
NMHC and NAA have long called on Congress to provide sufficient resources to improve federal flood risk mapping accuracy. Too often, flood maps are outdated or inaccurate and the process for rental property owners to challenge those designations and the maps on which they are based is overly complex and financially burdensome. The legislation includes $500 million per year for the mapping program. Importantly, as NMHC and NAA have called for, the bill requires FEMA to utilize updated mapping technology, such as LiDAR, and moves towards property specific mapping.
NMHC and NAA will continue to urge Congressional leaders to take swift action to ensure the program does not lapse and provide a long-term reauthorization and programmatic reforms necessary to ensure the ability of the industry to manage flood risk and provide secure housing for many of the 39 million Americans who live in apartments.
---
Source: NMHC