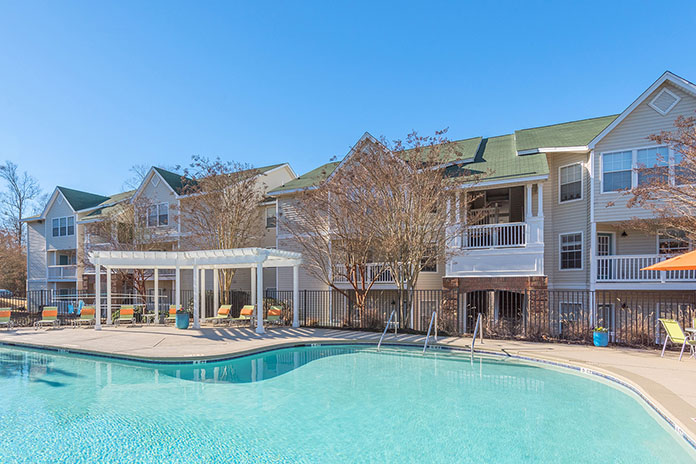 Cushman & Wakefield has arranged the sales of two apartment communities in the Greenville, South Carolina, MSA. Tai Cohen, Jordan McCarley and Watson Bryant of Cushman & Wakefield represented the sellers in the transactions.
The 378-unit Waterside Greene, built in 2005, was acquired by Audubon Communities for $47 million. Chapel Street Advisors was the seller.
"We are excited about our first investment in South Carolina," said Myles Cunningham, Chief Investment Officer of Audubon Communities. "This well-located property with high quality construction has outdated finishes, which will allow us to transform the property to compete with the newly constructed properties at a discounted rental rate. Our construction plan is to build a new clubhouse, completely transform the curb appeal and update the interior of the units. As Greenville continues its incredible growth, we believe that this community will be a great addition to our portfolio."
Waterside Greene residents enjoy easy access to premier shopping, with more than 1.3 million square feet of retail space within two miles of the property, including Whole Foods Market and other big box retailers. Located in an affluent region of South Greenville, Waterside Greene is set to benefit from strong submarket fundamentals and a shrinking level of new multifamily development that will tighten the rental market.
The 144-unit Hawthorne Willowbrook sold to PassiveInvesting.com. Hawthorne Residential Properties was the seller. The property has received a substantial allocation of capital for curb appeal and amenity improvements, priming the asset for an interior value-add program.
"This is our second acquisition in the Greenville MSA in the last six months and is a great addition to our portfolio as we are bullish on the rapidly expanding South Greenville submarkets of Mauldin/Simpsonville with several new economic developments planned in close proximity," said Danny Randazzo, Managing Partner at PassiveInvesting.com. "Our plan for this acquisition is to continue the prior renovation plan by continuing to renovate with modern interiors."
"Both Waterside Greene and Hawthorne Willowbrook are surrounded by some of the region's largest employers, sitting seamlessly connected to the Upstate's booming economy, making them exceptional investments primed for organic growth for Audubon Communities and PassiveInvesting.com," Cohen added.
Cushman & Wakefield's Southeast Multifamily Advisory Group ranked No. 1 in market share in 2018 based on closed transactions, totaling more than $4.5 billion in sales volume, according to Real Capital Analytics.
---
About Cushman & Wakefield
Cushman & Wakefield is a leading global real estate services firm that delivers exceptional value for real estate occupiers and owners. Cushman & Wakefield is among the largest real estate services firms with approximately 51,000 employees in 400 offices and 70 countries. In 2018, the firm had revenue of $8.2 billion across core services of property, facilities and project management, leasing, capital markets, valuation and other services.