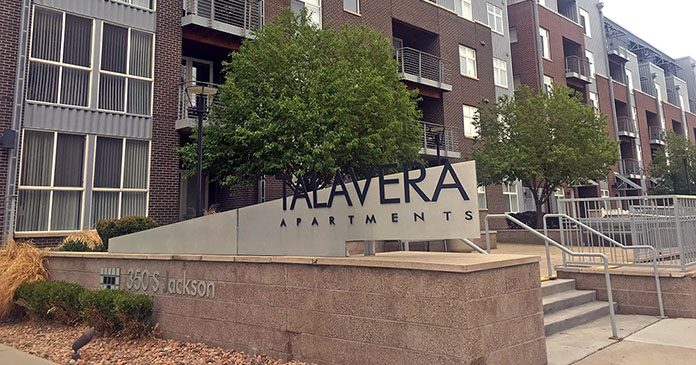 Holliday Fenoglio Fowler, L.P. (HFF) announces it has arranged $45.65 million in financing for Talavera Apartments, a 240-unit, mid-rise multi-housing community located in Denver, Colorado.
HFF worked on behalf of the borrower, Denver-based Griffis Residential, to secure the 10-year, Fannie Mae Green Rewards loan through HFF's risk-transfer joint venture with M&T Realty Capital Corporation. The loan, which was used to fund the acquisition of the property, carries a 3.53 percent fixed interest rate with full-term interest-only payments.
Talavera Apartments is located at 350 South Jackson Street near Cherry Creek's numerous high-end retail, dining and entertainment amenities. Built in 2008, the property features a mix of studio, one-bedroom and two-bedroom units averaging 838 square feet. Community amenities include a swimming pool and spa, covered parking, in-unit washers and dryers, stainless steel appliances and Amazon lockers. The property was more than 97% leased at closing.
"HFF has again proven to be a strong partner, working with Griffis Residential to secure financing for a high-quality asset in our latest real estate investment fund," said Jim DiRienzo, senior vice president of acquisitions at Griffis Residential. "The apartment homes at Talavera, which has been renamed Griffis Cherry Creek, are primed for interior improvements and additional elements of our investment strategy, including enhanced resident experience, ancillary income initiatives, and management and service upgrades."
The HFF team representing the borrower was led by senior managing director Eric Tupler and managing director Josh Simon.
---
About Griffis Residential
With approximately $2 billion in multifamily assets, Griffis Residential is a vertically integrated multifamily real estate investment firm that owns and manages over 7,400 multifamily homes in thriving markets around the western U.S., including Denver, Austin, Seattle, Los Angeles and Las Vegas.
About M&T Realty Capital Corporation
M&T Realty Capital Corporation is a wholly-owned commercial mortgage-banking subsidiary of Manufacturers and Traders Bank, better known as M&T Bank Corporation.  Founded in 1856 in Buffalo, New York, M&T Bank Corporation is a regional financial services company with more than $115 billion in assets. M&T is a community-focused bank that serves customers in New York, Maryland, New Jersey, Pennsylvania, Delaware, Connecticut, Virginia, West Virginia and Washington, DC through more than 750 branches, 1800 ATMs, and a variety of online and mobile services.
About HFF
HFF and its affiliates operate out of 26 offices and are a leading provider of commercial real estate and capital markets services to the global commercial real estate industry.  HFF, together with its affiliates, offers clients a fully integrated capital markets platform, including debt placement, investment advisory, equity placement, funds marketing, M&A and corporate advisory, loan sales and loan servicing.  HFF, HFF Real Estate Limited, HFF Securities L.P. and HFF Securities Limited are owned by HFF, Inc.