Chicago-based Hubbard Street Group (HSG) has partnered with scooter-sharing company Spin to establish a drop-off/pick-up point at The Field's Lofts, HSG's new 123-unit loft-style rental community at 4000 W. Diversey Ave., near Chicago's Logan Square neighborhood. Spin, a subsidiary of Ford Motor Company, is one of 10 companies participating in the city of Chicago's four-month pilot program, running through Oct. 15, across 50 square miles on the West, Northwest and Southwest sides of the city.
"We wanted to be a pioneer and partner with Spin to locate scooters at The Field's Lofts," said John McLinden, managing partner of Hubbard Street Group (HSG). "The scooters are a great addition to our project in that they allow our residents to travel from their homes to the Blue Line and Logan Square in five minutes. On the first weekday the Spin scooters were available, they were gone by 8 a.m., showing the demand for low-cost, easy-to-access transit. We've already requested double the number of scooters."
For the first two weeks, Spin is offering residents of The Field's Lofts a $7 voucher. The scooters, which are housed on the property's surface lot, cost $1 to unlock and 15 cents per minute of use. Spin picks up the scooters wherever they're parked around the city every evening, and will return them to The Field's Lofts the next morning.
"Spin is always looking for ways to integrate micromobility naturally into people's commutes and day-to-day travels," said Ellen Gottschling, a community partnerships manager at Spin. "We're excited to partner with The Field's Lofts to fulfill that mission of connecting residents to sustainable transportation in an organized and seamless way."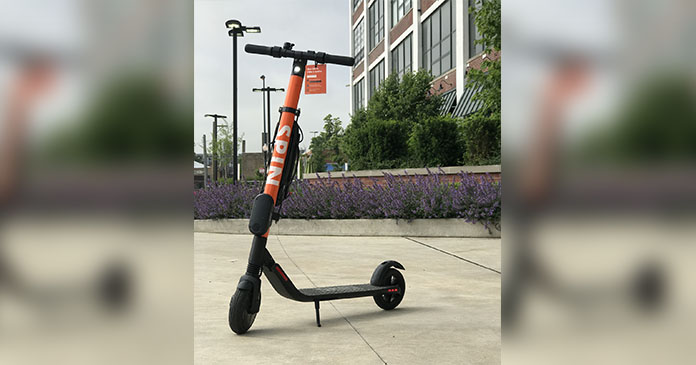 An estimated 46 percent of car trips in urban areas are less than 3 miles, and micromobility options such as e-scooters and bikes are often more convenient and affordable than taxis, public transportation or walking, according to Cushman & Wakefield's "Mobility Shifts in Commercial Real Estate" report. Since 2017, e-scooters have already captured a 3.8 percent market share in the markets where they operate, disrupting ride-hailing services for short trips, according to the report.
The Field's Lofts welcomed first move-ins in April and is currently 50 percent leased. Housed in a portion of the former Marshall Field's warehouse, the community offers junior one-, one- and two-bedroom residences ranging from 542 square feet to 1,330 square feet. Rents start at $1,495 per month for junior one-bedrooms; $1,795 per month for one-bedrooms; and $2,395 per month for two-bedrooms.
Each apartment features a selection of high-end finishes including Balterio gray-tone plank flooring; contemporary kitchens with premium soft-close cabinetry, tile backsplashes, under-cabinet lighting and stainless steel Whirlpool appliances; Kohler plumbing fixtures and undermount sinks; floating vanities and frameless glass showers in baths; solar window shades; and bedroom closets with custom-built organizer systems. In addition, architectural details like 24-inch-round columns, 14- to 17-foot ceilings and steel-frame windows maintained during the renovation of the former warehouse make The Field's Lofts an authentic loft living experience. Common areas designed by architectural firm Hirsch MPG and design firm Harken Interiors pay homage to the building's rich history through use of color – the Marshall Field's signature shade of green is featured prominently throughout — as well as accessories such as original signage.
Amenities include dedicated spaces for work, relaxation and socialization. Located on the sixth floor – the community's top level – they include a co-working space with Wi-Fi and printing station; fitness center with state-of-the-art equipment including Peloton bikes, as well as a private yoga and meditation studio; and resident lounge and café with chef's-grade kitchen. Outdoors, residents enjoy access to an expansive rooftop deck with lounge chairs, a fire pit, grilling area and dog run – all with unobstructed views of the Chicago skyline. The Field's Lofts also provides complimentary bike parking, storage lockers and garage parking.
Cermak Fresh Market anchors the building's lower-level retail space, while numerous shops, restaurants and parks are within walking distance. Nearby transportation options include several bus stops along Diversey Avenue that connect to the CTA Blue Line, allowing residents to commute downtown in about 20 minutes. Dedicated bike lanes on Diversey connect to Milwaukee Avenue, a main artery to downtown, accommodating both bikes and scooters in the zones established by the pilot program.
---
About Hubbard Street Group
Founded in 2016 by real estate veteran John McLinden, Hubbard Street Group (HSG) is a real estate investment and development company that creates modern, lifestyle-oriented residential, retail and office developments, with a focus on urban infill sites. The partners at HSG are industry leaders in neighborhood-level development, capitalizing on hyperlocal market opportunities and working alongside community stakeholders to realize the vision for each project. McLinden is joined at HSG by partners Graham Palmer and Kage Brown. HSG's portfolio includes properties developed by Chicago-based Centrum Partners, which McLinden co-founded and led as managing partner before forming HSG.