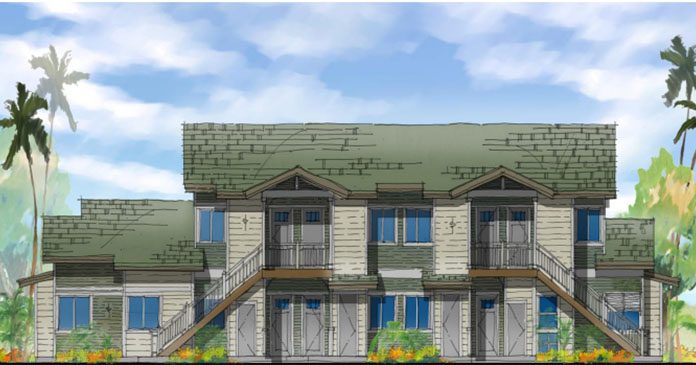 Riverside Capital, LLC ("Riverside"), a leading provider of capital for high quality affordable housing developments, is pleased to announce it has invested $16.5 million in the construction of new affordable family housing in East Kapolei, HI. The project, known as Keahumoa Place – Phase IV is being developed by The Michaels Organization, a nationally recognized developer with projects across the United States and the US Virgin Islands.
Keahumoa Place Phase IV will be constructed on 6.16 acres of a vacant 19.72-acre site that was formerly part of a privately-owned sugar cane plantation. The project will consist of 81 one, two and three-bedroom units, all of which will house families earning between 30-100 percent AMI. Keahumoa Place Phase 4 will be the last of four phases of the Keahumoa Place master development. Upon completion, the four phases will provide 320 rental apartments in 37 two-story buildings along with one-for-one covered parking spaces and a community building.
"We were honored to have Riverside Capital on our team for all four phases of Keahumoa Place," said Karen Seddon, Regional Vice President of Michaels Development. "With the support of everyone at Riverside, we are able to build a housing community with affordable rents that will make it possible for our residents to live better, more productive and more prosperous lives."
Keahumoa Place Phase 4 is the sixth Hawaiian partnership between Riverside and Michaels, representing almost $90MM in equity investments.
In addition to the $16.5MM in federal and state tax credit equity provided by Riverside, Keahumoa Place Phase IV is being financed with a Construction Loan through First Hawaiian Bank, a Permanent loan from Freddie Mac, and a soft loan through the Hawaii Housing Finance and Development Corporation (HHFDC). The land is owned by the HHFDC, who will enter into a long-term ground lease with the project owners.
"Riverside is extremely excited to expand our relationship with Michaels and the state of Hawaii to provide much-needed affordable housing for Oahu residents," said Rick Slagle, Senior Vice President at Riverside. "Keahumoa Place is a great example of how key partnerships can turn opportunities into outcomes, vacant land into vibrant new communities."
---
About Riverside Capital, LLC (Riverside)
Riverside Capital, LLC, a joint venture of Berkadia and The Michaels Organization, is a full-service tax credit investment company offering capital solutions to developers of high-quality affordable housing. National in scope and serving both for-profit and nonprofit developers, Riverside has guided the financing and syndication for more than 7,700 affordable apartment homes across the country, representing over $1 billion of equity capital. With a network of strong investor relationships and a focus on transparency, competitive pricing, and long-term value creation, Riverside is committed to providing financial solutions for affordable housing communities and that lift the lives of the residents who call those communities home.