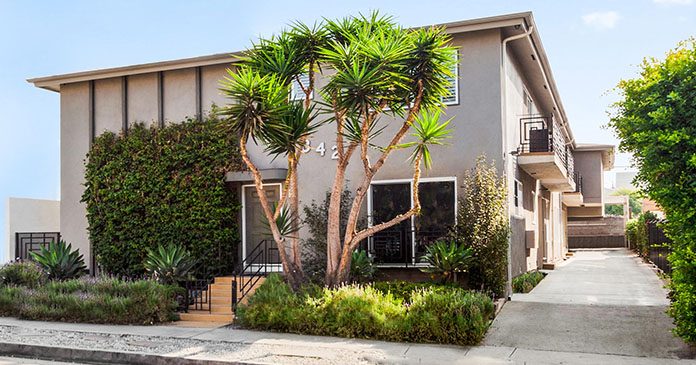 Stepp Commercial, a leading multifamily brokerage firm in the Los Angeles market, has completed the approximately $2.37 million sale of an eight-unit apartment property located in the heart of Hollywood's Media District at 842 Wilcox Avenue in Los Angeles.
Senior Vice President Mark Ventre of Stepp Commercial represented the seller, a Louisiana-based private trust. The buyer was a local private investor. The closing cap rate was 4.1 percent and the price per unit was $295,625.
Built in 1958, the two-story property includes three two-bedroom units and five one-bedroom units. The building was largely renovated with a new exterior façade and system upgrades, along with five unit interior rehabs that include laminate wood flooring, stone countertops, custom cabinetry and stainless steel appliances. The asset is walking distance to Larchmont Village and the famous Sunset & Vine intersection.
"This property was delivered with little deferred maintenance while at the same time still offering over 30 percent upside in potential rent, with the ability to lift the interior finishes to an even higher level that this 'Media District' neighborhood now commands. This pocket of Hollywood is undergoing an incredible transformation as over 25 new multifamily, mixed-use and office developments are within a one-mile radius of the property. The growing inventory of jobs and creative office space, propelled by Netflix and other entertainment companies, has been the main driving force to the recent boom," said Ventre.
---
About Stepp Commercial
Stepp Commercial is a brokerage firm specializing in the multifamily property sector. Stepp Commercial's mission is to provide apartment owners with a fully integrated sales platform that includes comprehensive market knowledge and local real estate expertise to successfully complete any type of multifamily transaction.