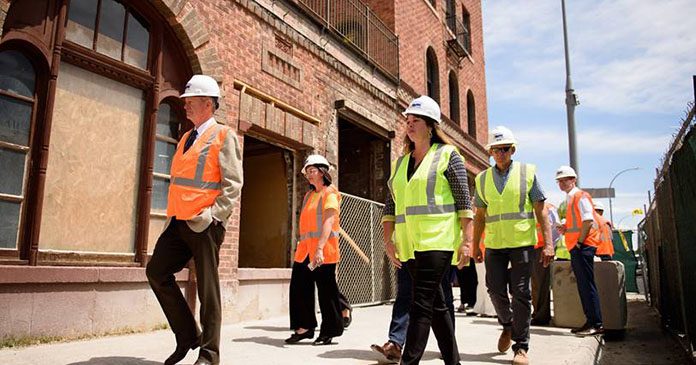 Optum is investing $8.8 million in Bonneville Apartments, an affordable-housing community currently under construction in downtown Idaho Falls. Upon completion, the historic Bonneville Hotel will be transformed into 35 new affordable apartments and 5,000 square feet of retail space.
The announcement was made during a hard-hat tour with Idaho Gov. Brad Little, who joined development and investment partners for a first-hand look at construction progress for the downtown revitalization project that will provide affordable new homes for individuals and families in the region.
Developed by The Housing Company, the $11.4 million project will become Bonneville Apartments, transforming the historic building into 35 new studio, 1-, 2- and 3-bedroom affordable apartments. There will also be 5,000 square feet of retail space on the ground level. On-site amenities will include a community room with a kitchenette, indoor play area, laundry room and on-site management. Two apartments will be dedicated to people struggling with homelessness.
"We are extremely grateful for the support we have received from so many partners like Optum and Enterprise, whose passion will help transform the Bonneville Hotel into a beautiful, high-quality affordable-housing community with retail space that will serve the Idaho Falls community for generations to come," said Kathryn Almberg, director, The Housing Company.
Optum is the largest investor in Bonneville Apartments, providing $8.8 million in equity through Low Income Housing Tax Credits (LIHTC) with Optum Bank in a partnership with Enterprise Housing Credit Investments (Enterprise). The Idaho Housing and Finance Association allocated LIHTC for the project, securing the major equity funding. Additional funding includes nearly $2 million through investment and long-term loans from The Housing Company and a $565,000 permanent loan from the Public Employee Retirement System of Idaho. The Idaho Falls Redevelopment Agency also provided $1.3 million in support through the acquisition of the Bonneville Hotel building.
"Bonneville Apartments is an important investment that will connect individuals and families struggling to secure affordable housing with safe, quality homes that will help them live healthier lives," said Georganne Benjamin, executive director, Optum Idaho. "This new community brings together many partners in our state to help create innovative solutions to housing and better health."
"Enterprise is proud of our partnership with Optum and grateful for its efforts to improve health outcomes by investing in affordable homes," said Charlie Werhane, president & CEO of Enterprise Community Investment, the parent of Enterprise. "Optum's investment, coupled with The Housing Company's thoughtful transformation of the Bonneville Hotel, means that well-designed, affordable homes will be available for working families for many years to come."
The $8.8 million investment by Optum is part of UnitedHealth Group's Empowering Health initiative to expand access to care and address the social determinants of health, which include access to healthy food, reliable transportation as well as affordable housing, among other factors. The company has invested $400 million in new affordable housing throughout the United States for people living in underserved communities.
The architect is Myers Anderson Architects, and the General Contractor is Bateman-Hall, Inc.
---
About Optum
Optum is a leading information and technology-enabled health services business dedicated to helping make the health system work better for everyone. With more than 165,000 people worldwide, Optum delivers intelligent, integrated solutions that help to modernize the health system and improve overall population health. Optum is part of UnitedHealth Group.