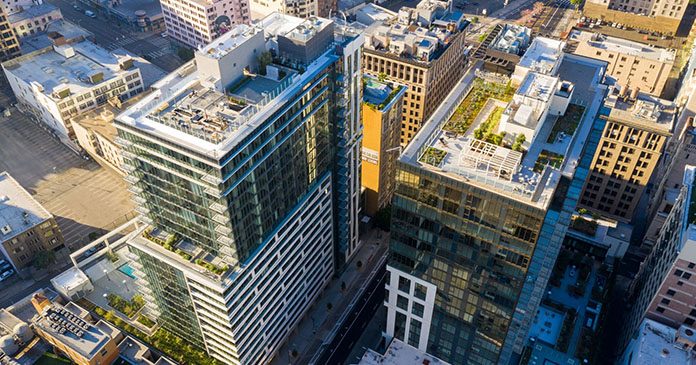 PCCP, LLC announced today it has provided $268.4 million in financing for the acquisition of two newly-built, Class A high rise apartment towers located in downtown Los Angeles, CA. The two properties, known as The Grace and The Griffin, total 575 units and were delivered in late 2018 by the seller, Holland Partners. With the portfolio nearing 50 percent occupancy, the new ownership's plan is to lease the remaining units to stabilization, lease the ground floor retail space, and hold the portfolio long-term. The financing was arranged by Mark Williams and Greg Stampley with Eastdil Secured.
"PCCP provided a flexible financing structure to facilitate the purchase and stabilization of these newly constructed apartment communities," said Ron Bonneau, managing director with PCCP. "Downtown Los Angeles is in the midst of a renaissance and has become a true live, work, play environment.  These assets are well positioned to directly benefit from the continued transformation of downtown LA."
Located on two separate parcels at 732 South Spring Street and 755 South Spring Street, the properties are situated directly across the street from each another in the Historic Core neighborhood of downtown Los Angeles and occupy a combined land area of 1.83 acres. The Griffin totals 275 units in a mix of 6 studios, 155 one-bedroom units, 55 two bedroom units, and 59 three bedroom units and includes 9,726-sf of retail.  The Grace has a total of 300 units in a mix of 18 studios, 195 one-bedroom units, 61 two bedroom units, and 26 three bedroom units and has 7,569-sf of ground floor retail.
Both The Grace and The Griffin are 28-story steel frame high-rise construction with floor to ceiling glass on certain sides of the buildings. The properties feature open floor plans with integrated kitchens, quartz countertops, stainless steel hardware and appliances, in-unit washer/dryer, recessed light fixtures, vinyl plank flooring, and 9.5' ceiling heights on average. Each building features top-of-the-line amenities including a resort-style infinity pool and spa, observatory rooftop lounge, bar and entertainment lounge, dog wash and run, two-story fitness center and yoga studio, business center, package delivery lockers, dry cleaning drop-off, electric vehicle charging stations, and a coffee bar.
The immediate area is bordered by the neighboring districts of South Park to the west, the Fashion District to the south, the Historic Core to the north, and Central City East and Central Industrial District to the east. This location puts the properties within walking distance to the 1.9 million-sf redevelopment of the California Market Center, Whole Foods, Bottega Louie, Sugarfish, Umami Burger, Freehand Hotel, Los Angeles Athletic Club, SoulCycle, and Bar Method, among a myriad of other nearby amenities.
---
About PCCP, LLC
PCCP, LLC is a real estate finance and investment management firm focused on commercial real estate debt and equity investments.  PCCP has $9.4 billion in assets under management on behalf of institutional investors.  With offices in New York, San Francisco, Atlanta, and Los Angeles, PCCP has a 21-year track record of providing real estate owners and investors with a broad range of funding options to meet capital requirements.  PCCP underwrites the entire capital stack to exploit inefficiencies in the market and provide investors with attractive risk-adjusted returns. Since its inception in 1998, PCCP has successfully committed $19.8 billion of capital through a series of investment vehicles including private equity funds, separate accounts and joint ventures.  PCCP continues to seek investment opportunities with experienced operators seeking fast and reliable capital.