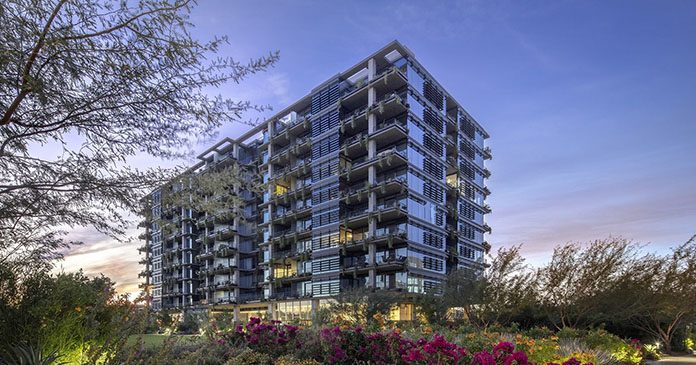 One Scottsdale developer, widely credited as pioneering modern, sustainable multifamily residential buildings in Arizona 15 years ago, is debuting the next evolution of the company's award-winning, green-building design at its newest luxury condominium tower that is under construction and now selling in North Scottsdale.
Optima, an award-winning real estate development firm with in-house development, architecture, design, building, management, sales and leasing, is now underway with the third and fourth luxury residential towers, including 7180 Optima Kierland, that will be the most elevated offering within the $500 million, multi-tower enclave of Optima Kierland Center.
The master-planned community embodies the hallmark design of esteemed architects David Hovey, Sr. FAIA, Optima's founder and CEO, and David Hovey, Jr. AIA, Optima's president, who create cutting-edge, residential buildings that have been nationally recognized with over 50 prestigious awards for the company's commitment to design, innovation and sustainability.
Diligently working to be at the forefront of the industry and evolve its first-to-market practices, Optima has set a new standard for multifamily green building in Ariz., with the recently completed 7120 Optima Kierland and 7180 Optima Kierland that opens in late 2020. As part of the next evolution of Optima's innovative design, 7180 Optima Kierland features will include:
Next-Generation Vertical Landscape System: Optima's signature vertical planting system, with self-containing irrigation and drainage, enables a palette of vibrantly colored plants at the edge of each floor to grow both up and over the edge of the building. The integration of enhancements to the vertical landscape and architectural shading systems protect homes from the sun and create additional privacy, while filtering the air and lowering ambient temperature.
Modular Façade & Efficient Shading System: The dynamic, undulating façade with perforated panels and sun screening louvers creates shade and shadows, voids and textures, punctuated by the desert sun. The sun is effectively filtered with strategically placed louvers and curved, perforated panels in front of the floor-to-ceiling glass. The result is an uplifting effect of filtered sunlight to the open living spaces, enhancing a sense of well-being.
Technologically Advanced Building Materials: Several components are made from local and recycled materials these extend the building lifespan and ensure enduring quality. Durable and resilient, materials include a post-tension concrete structure, aluminum infill window wall system, aluminum sun screens and louvers.
Energy Efficiency & CO2 Emission Reduction: The building is energy efficient as a result of the high-performance glazing, overhangs, building configurations, plant material and exterior shading louvers and screens, which are engineered to produce a zero-energy performance index (zEPI) of 49.8. The project is expected to use 10.4% less energy than a code-compliant building based on ASHR AE 90.1 2010.
Water Conservation from Plumbing Fixtures: Indoor water use will be reduced by 28 percent of baseline plumbing fixture flush and flow rates as set by the U.S. Energy Policy Act of 1992.
Excellent indoor Environment Quality, Air Filtering and Reduced Material Emissions: The robust landscaping throughout the community, both on the ground and vertically, helps filter carbon emissions in the air. Low emitting materials are used to improve the indoor air quality.
Park-Like Setting:  More than 6 acres of landscaped open space on the ground level creates a park-like setting for the community and reduces ambient temperature mitigating the heat-island effect. Optima worked closely with Dr. Chris Martin from Arizona State University to develop and refine a plant palette that thrives in the desert climate and is sensitive to the water demands. All the landscaping creates a microclimate that lowers the ambient temperature from five to nine degrees. All parking at Optima Kierland Center is underground to maximize open, green space and reduce the heat island effect.
"We've always been focused on pushing the envelope with each Optima development when it comes to sustainability, design and technology. It's the right thing to do for 21st Century residential housing," said David Hovey, Jr., AIA. "We put an emphasis on minimizing hard materials like blacktop, roads and parking lots surrounding our buildings to create more open, lush green space. We have committed ourselves to the Architecture 2030 Challenge, with the mission of being carbon-neutral by the year 2030."
Optima Kierland Center has been named a pilot project for the City of Phoenix's newly adopted International Green Construction Code (IGCC). A few miles south, Optima Sonoran Village was similarly chosen as the pilot project for the City of Scottsdale's IGCC.
At all four of its Ariz. multifamily residential communities that encompass nearly 2,500 homes, Optima seamlessly integrates the environmental benefits into the benchmark design aesthetics of each building. While each Optima project is distinctive to its physical location, there are shared aesthetics that have become hallmarks to the team's vision: hanging gardens where plants grow from private terraces and scale the building's exterior; acres of rooftop gardens that become a haven for urban wildlife; overhanging bridges and cantilevering landscape terraces that shade public pedestrian courtyards creating shelter from the southwest desert; recycled materials from local and regional resources; and open space courtyards, floor-to-ceiling windows, and vegetated terraces that provide a connection to nature and fosters environmental benefits relative to air quality, sound mitigation, stress reduction and well-being.