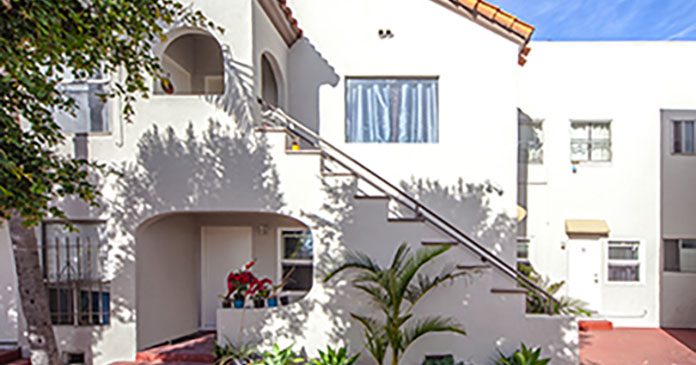 Stepp Commercial, a leading multifamily brokerage firm in the Los Angeles market, has completed the approximately $1.86 million sale of a value add 11-unit apartment property located at 2121 Long Beach Blvd. in the South Wrigley submarket of Long Beach.
Principal Robert Stepp and Vice President Mark Witsken of Stepp Commercial represented the seller, Palos Verdes-based 2121 LBB, LCC. Vice President Todd Hawke of Stepp Commercial represented the buyer, Marina Del Rey-based BayWest Investments. The property sold for a per unit price of approximately $169,000.
Built in 1928, the charming Spanish-style building includes a mix of seven studios, three one-bedroom units and one three-bedroom unit. The property is well-located within steps of the Long Beach Blvd./Hill Street metro station within the South Wrigley submarket. This submarket is seeing an increase in renter demand as the Long Beach area as a whole benefits from capital investment in new development as well as redevelopment. Additionally, there are a number of new mixed-use developments in various stages of approvals which will lend to additional gentrification in the area.
"Stepp Commercial marketed this asset as a strong value-add opportunity as it offered not only rent growth but the potential for additional income from unused space and the three connected parking garages," said Stepp. "We identified a strong buyer who plans to renovate and modernize the units."
---
About Stepp Commercial
Stepp Commercial is a brokerage firm specializing in the multifamily property sector. Stepp Commercial's mission is to provide apartment owners with a fully integrated sales platform that includes comprehensive market knowledge and local real estate expertise to successfully complete any type of multifamily transaction.