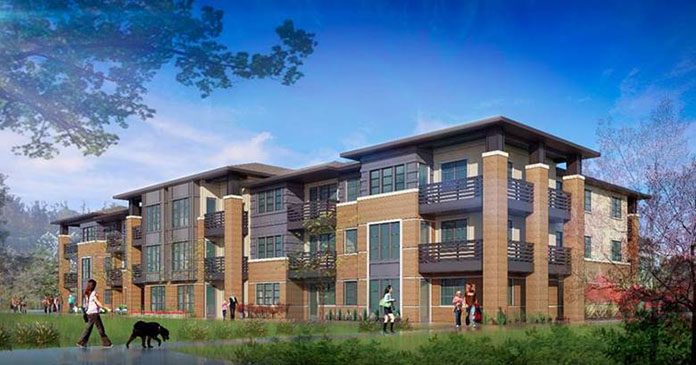 Tacara Village, a 332-unit multifamily project, will be the first community to integrate smart home technology from the ground up at AllianceTexas, a 26,000-acre master-planned development in north Fort Worth. Built by Hillwood, one of the nation's most forward-thinking real estate developers, phase one of Tacara Village will open late this summer, with a planned completion by early 2020.
Setting a new standard for multifamily communities, Tacara Village will feature some of the latest smart home devices that can be remotely monitored and controlled for ease of use including smart locks, thermostats, light switches and building/amenity access. Hillwood is partnering with Dwelo, a smart apartment service provider, to create a simple, seamless home automation experience. With Dwelo, residents of Tacara Village can control their smart in-unit devices through a fully integrated phone application capable of supporting both embedded technologies and personal digital assistants, like Google Home and Amazon Alexa.
"Technology is at the root of everything these days and it's important that the multifamily industry starts embracing the platforms available for home automation," said Mark McHenry, managing director of Hillwood's multifamily department. "Tacara Village is the first of many planned communities that our team is thoughtfully embedding premium, sophisticated amenities to help our residents and property managers experience a connected environment."
Backed by Perot Jain, a Dallas-based, early stage venture capital firm co-founded by Anurag Jain and Hillwood Chairman Ross Perot Jr., Dwelo is one of several innovative companies to partner with Hillwood to develop technology solutions in the AllianceTexas corridor. The master-planned community served as an incubator for nationally recognized smartphone application services Booster Fuels and PICKUP, both of which also received funding from Perot Jain.
In addition to the technologies, Tacara Village will be a highly amenitized lifestyle complex that is designed to create resident engagement. At the heart of the development sits a signature clubhouse with a co-working lounge, a state-of-the-art gym, a yoga studio and a host of billiards and shuffleboard tables. Tacara Village also offers residents high-end outdoor amenities to promote collaboration such as a resort-inspired pool and a courtyard with cabanas and outdoor kitchens. Furry friends are also welcome and can take advantage of the two pet parks available onsite.
The modern multifamily units are available in 14 different floor plans and include two color scheme options for luxury finishes. Gourmet island kitchens, stainless steel appliances, private balconies and patios, and spacious walk-in closets are among a few of the highly desired interior features. Leasing is currently available for one- and two-bedroom apartment homes and two- and three-bedroom townhome floor plans with an attached garage.
Enhancing its community-centric feel, Tacara Village is located within Alliance Town Center, the 900-acre mixed-use complex home to quality dining and entertainment options such as the recently opened First Watch and Mod Pizza. Residents can also easily access more than 50 miles of the Arcadia Regional Trail System that leads through surrounding neighborhoods and parks. Bluestem Park, a 14-acre natural oasis, and Prairie Vista Park, a 10-acre park, are two additional, trail-connected options for residents to relax, workout or simply enjoy the outdoors.
Tacara Village comes on the heels of Hillwood's recent announcement of establishing the AllianceTexas Mobility Innovation Zone, creating a testbed for future transportation technologies and platforms. With a rich history in multimodal options and technology, AllianceTexas is the ideal incubator for forward-thinking companies to develop, test and launch future solutions.
---
About AllianceTexas
Celebrating its 30th anniversary in 2019, AllianceTexas is an unparalleled regional success story that has transformed the North Texas economy and connected the area to global industry. Anchored by Fort Worth Alliance Airport, the world's first dedicated industrial airport, and led by Hillwood's development of 26,000 acres, AllianceTexas is home to over 500 companies which have built more than 45 million square feet and created over 61,000 jobs, its estimated cumulative impact since 1989 is more than $76 billion for North Texas. The Alliance region hosts one of the nation's premier intermodal hubs and has expanded far beyond its industrial roots to include corporate headquarters, healthcare providers, higher education centers, shopping and entertainment destinations, and vibrant residential communities. From the newest homeowner to the most well-known of Fortune 500 companies, opportunity thrives at AllianceTexas.
About Hillwood
Hillwood, a Perot company, is a premier industrial, commercial and residential real estate developer and manager with projects throughout North America and Europe. With a diverse portfolio of properties which have become home to many of the world's leading companies, Hillwood is committed to bringing long-term value to our customers and partners and the communities in which we serve. Hillwood also served as the lead developer of marquee projects nationwide, from the Air Force Memorial in Washington, D.C. to the Perot Museum of Nature and Science and the American Airlines Center in Dallas.