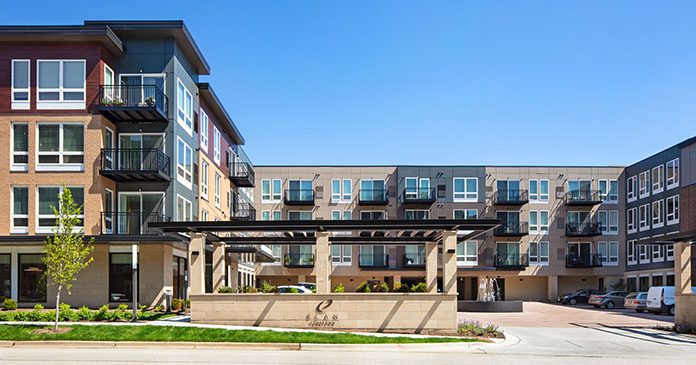 Construction is now complete on Elan Yorktown, a new luxury apartment community located at 50 Yorktown Center in Lombard, Illinois. Elan Yorktown is developed and owned by Greystar, a global leader in the investment, development and management of high-quality rental housing properties. McShane Construction Company, one of the nation's premier construction services provider, is the builder for the project.
"We are delighted to offer a new living option in the Chicago suburbs," said Gary Wallace, Managing Director of Development for Greystar. "Elan Yorktown is designed with a variety of social spaces, open floor plans, modern interiors and an array of on-site amenities."
The community includes 295 units and offers studio, one-, two- and three-bedroom apartment homes ranging in size from 626 to 2,471 square feet. All residences incorporate stylish fixtures and finishes that complement the open floorplans, large bathrooms, walk-in closets, full-size in-unit washer and dryers and private outdoor balconies or patios.
"Elan Yorktown goes beyond the offerings of a traditional multifamily development," said Jeffrey A. Raday, P.E., President of McShane Construction. "Today's renters are looking for more than just a place to lay their heads at night, they're looking for a wide array of amenities, and Elan Yorktown delivers on that wish. This, combined with the modern design and high-end fixtures and finishes, makes Elan Yorktown ideal for any lifestyle."
The four-story development incorporates high-quality wood frame construction finished in a combination of brick veneer, cast stone, fiber cement, metal panel and longboard siding façade. An attached four-story, 461-car parking garage was strategically located within the residential component to eliminate visibility and further enhance the contemporary architecture.
The multifamily community features numerous amenities situated on the first floor and throughout various outdoor areas. Inside features include a fitness center with a separate group fitness wing, golf simulator room, theater room, library, several conference rooms and event spaces, a large club room with a pool table, central fireplace and full kitchen.
Outdoor features include access to four exterior courtyards that include an outdoor swimming pool, bar, grilling stations and furnished cabanas. Additionally, there is a dog park, landscaped pond and walking path that spans the exterior.
ESG Architects provided the architectural services.
---
About McShane Construction Company
McShane Construction Company was established in 1984 and is headquartered in Rosemont, Illinois with regional offices in Auburn, Alabama, Irvine, California, Madison, Wisconsin and Phoenix, Arizona. The firm offers integrated design/build and build-to-suit construction services for the multifamily, retail, office, recreational, hospitality, educational, healthcare, distribution, manufacturing and food processing markets.
About Greystar
Greystar is a leading, fully integrated real estate company offering expertise in investment management, development, and management of rental housing properties globally. Headquartered in Charleston, South Carolina, Greystar manages and operates an estimated $115 billion of real estate in over 180 markets globally including offices throughout the United States, UK, Continental Europe, Latin America, and the Asia-Pacific region. Greystar is the largest operator of apartments in the United States, managing approximately 500,000 units/beds, and has a robust institutional investment management platform with $33 billion of assets under management including $12.1 billion of assets under development. Greystar was founded by Bob Faith in 1993 with the intent to become a provider of world-class service in the rental residential real estate business.