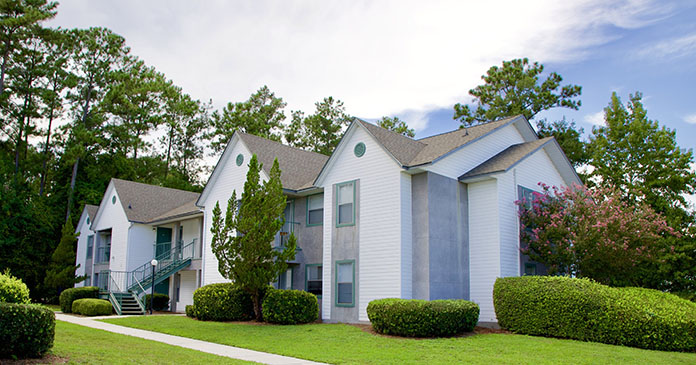 Cushman & Wakefield has arranged the sale of a 13-property, 2,492-unit portfolio comprised of apartment communities throughout Georgia and North Carolina on behalf of Kole Management Co. Taylor Bird, Nelson Abels, and Robert Stickel of Cushman & Wakefield represented the seller in the transaction. Carter Multifamily acquired 11 Georgia properties, while Lincoln Avenue Capital acquired Ashton of Richmond Hill in Savannah, Georgia, and MLA Properties bought Pavilion Village in Charlotte, North Carolina.
"These communities offered an opportunity to invest in almost 2,500 units with significant market-supported value-add potential," said Bird. "Eleven of the properties sold to one investor, Carter Multifamily, allowing for immediate efficiencies and scale in growing secondary markets. This sale shows how qualified groups are searching for portfolios as well as assets in secondary markets where they are able to achieve higher returns than the major metros."
This well-maintained 13-property portfolio features locations in the Georgia cities of Savannah (seven), Macon (three), Augusta, and Canton, with one location in Charlotte. All properties boast higher than average occupancies and are located in thriving locations surrounded by high barriers to development.
"MLA is excited to be entering the Carolinas, and we look forward to continuing to work with Cushman & Wakefield to expand our footprint in the market," said Michael Cohan, Managing Director at MLA Properties. "The Charlotte MSA continues to be a leader in all major demographic categories and we believe the region's best days are ahead of us. Pavilion Village presents a unique opportunity in a thriving submarket with close access to transportation, education, and major employment hubs. In partnership with Pearlmark, we believe this asset will benefit from an interior value-add program and Drucker & Falk's management expertise."
"The Ashton at Richmond Hill meets a vital need for quality, affordable housing in the Savannah area," said Yoni Gruskin, Partner at Lincoln Avenue Capital. "We are proud to add this property to our quickly growing portfolio nationwide."
Cushman & Wakefield's Southeast Multifamily Advisory Group ranked No. 1 in market share in 2018 based on closed transactions, totaling more than $4.5 billion in sales volume, according to Real Capital Analytics.
---
About Lincoln Avenue Capital
Lincoln Avenue Capital (LAC) is one of the nation's fastest-growing developers, investors, and operators of affordable housing, providing high-quality places to live for low-income families across the country. A values-driven organization founded as an affiliate of the Matthew Bronfman family office, LAC's portfolio includes 43 properties, comprising more than 8,700 units.
About MLA Properties
MLA Properties invests in residential and commercial real estate throughout the United States. The firm has more than $600,000,000 in assets under management, including multifamily, retail and office. MLA's current investment strategy focuses on core plus and value add garden-style multifamily in non-gateway markets.
About Cushman & Wakefield
Cushman & Wakefield is a leading global real estate services firm with 45,000 employees in more than 70 countries helping occupiers and investors optimize the value of their real estate. Cushman & Wakefield is among the largest commercial real estate services firms with revenue of $6 billion across core services of agency leasing, asset services, capital markets, facility services (C&W Services), global occupier services, investment & asset management (DTZ Investors), project & development services, tenant representation, and valuation & advisory.