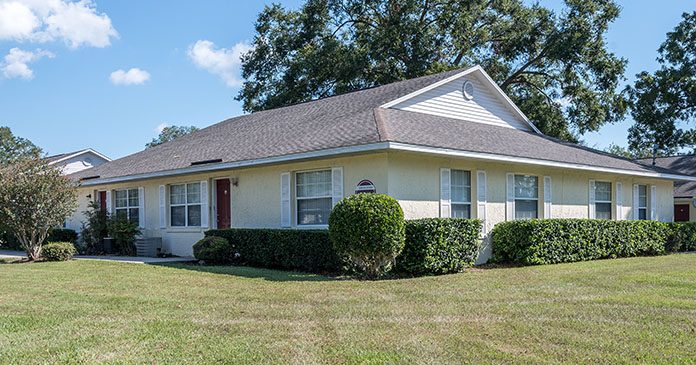 Cushman & Wakefield has arranged the sale of Sterling Pointe, a rental community in Ocala, Florida, for $19.6 million. The fully occupied community is comprised of 73 single-story duplex and quadplex buildings totaling 271 units.
Executive Director Nick Meoli and Executive Director Mike Donaldson, with Cushman & Wakefield's Florida Multifamily Investment Sales Team, represented Equity Management Partners, a Tampa-based property management company, in the disposition. The buyer is Goldelm Properties, an Orlando-based manager and developer of multifamily properties.
Sterling Pointe is situated on 22.82 acres at 3480 NE 48th Terrace in Silver Springs, a northern submarket of Ocala.
The property is made up of 61 quadplexes and 12 duplexes. Of the 271 residences, 250 of the units have two-bedrooms. There are also 18 one-bedroom units, two four-bedroom units and one three-bedroom unit.
The buildings were completed between 1981 and 2005, and approximately 73 percent of units have recently been updated with resurfaced cabinets and countertops, updated brushed nickel lighting fixtures, six panel interior doors and vinyl plank flooring.
Amenities include a clubhouse with an entertainment area, a basketball court, fitness center, playground, onsite laundry facility and picnic area with grilling stations.
"National and international investors are continuing to target secondary and tertiary markets with higher yield opportunities and limited new supply coming online," said Meoli. "This trend was evident with Sterling Pointe, as we generated over 260 registered buyers and produced 12 competitive offers on the property."
Added Donaldson, "With two-bedroom residences making up 94% of the unit mix, the buyer saw a strong value-add component to burn off the current loss-to-lease and renovate interior units allowing them to increase the effective gross income by 31%."
Cushman & Wakefield's Florida Multifamily Team is directed by Robert Given and includes Meoli and Donaldson as well as Luis Elorza and Brad Capas in West-Central Florida; Jay Ballard and Ken Delvillar in Central Florida; and Zachary Sackley, Troy Ballard, Calum Weaver, Errol Blumer, Neal Victor, James Quinn and Perry Synanidis in South Florida. Robert Kaplan, Chris Lentz and Mark Rutherford facilitate debt, equity and structured finance for the team throughout Florida.
---
About Cushman & Wakefield
Cushman & Wakefield is a leading global real estate services firm that delivers exceptional value for real estate occupiers and owners. Cushman & Wakefield is among the largest real estate services firms with approximately 51,000 employees in 400 offices and 70 countries. In 2018, the firm had revenue of $8.2 billion across core services of property, facilities and project management, leasing, capital markets, valuation and other services.