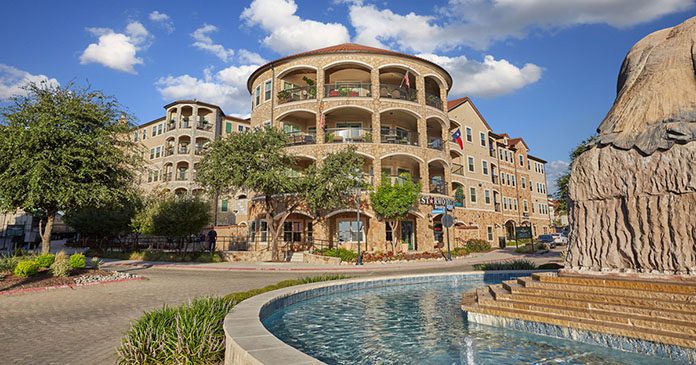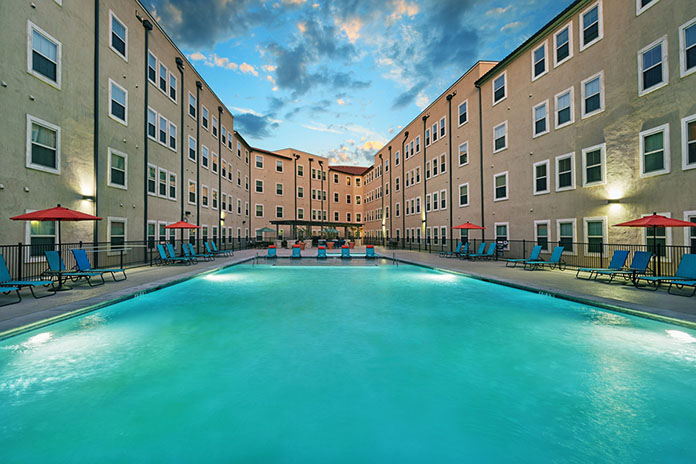 Draper and Kramer, Incorporated, a national real estate services firm, today announced it has expanded its multifamily portfolio with the acquisition of St. Paul's Square, a four-story, 211-unit luxury rental community in McKinney, Texas, a suburb 30 miles north of Dallas. Terms of the transaction were not disclosed.
Located at 470 Adriatic Parkway, St. Paul's Square offers a mix of large one-, two- and three-bedroom units, as well as a full suite of upscale amenities. It is part of Adriatica Village, a mixed-use development modeled after a Croatian fishing village that features old-world-style architectural details as well as shopping, dining and entertainment offerings that create a walkable community.
"As we continue to expand Draper and Kramer's footprint nationally, we are specifically targeting high-quality properties in growth markets like Dallas with strong population and employment fundamentals," said Blas Puzon, chief investment officer with Chicago-based Draper and Kramer. The Dallas-Fort Worth-Arlington metropolitan area grew by more than 130,000 residents from 2017 to 2018, a bigger increase than any other metro in the country, according to U.S. Census Bureau data.
"St. Paul's Square aligns nicely with our acquisition strategy, as its location in McKinney gives renters proximity to several employment hubs in the DFW metroplex, but in a sought-after suburb with quality schools, a strong local business environment and a small-town feel with a charming historic downtown area," Puzon continued. "Likewise, the Adriatica Village development is a unique setting, offering the walkable lifestyle so many of today's renters are seeking but that can be harder to come by in the suburbs."
St. Paul's Square is Draper and Kramer's third acquisition in Texas, where the company also owns and manages two luxury multifamily properties in the popular Stone Oak area of San Antonio: The View at Encino Commons, a 324-unit rental community, and Sonterra Blue, a 342-unit apartment property.
Completed in 2015, St. Paul's Square features apartments ranging from 735 to 2,073 square feet. Units have open layouts with 9-foot ceilings, wood-plank flooring in the main living areas and gourmet kitchens with granite countertops and stainless steel appliances. Select units also include a kitchen pantry; spa-style master bath with separate shower and soaking tub, dual sinks and a linen closet; and a private balcony or patio space. All residences have connections for a washer and dryer.
While St. Paul's Square offers a full suite of community amenities, Draper and Kramer plans to modernize the indoor and outdoor common areas, including a new clubhouse, leasing center and state-of-the-art fitness center. The firm will also make pool deck improvements and courtyard updates. "The future amenities at St. Paul's Square will be an outstanding complement to the lifestyle residents enjoy," said Puzon. "Our improvements will enhance not only the property, but the entire Adriatica Village, fostering a greater sense of community among residents and visitors."
As part of the acquisition, Draper and Kramer will assume management of St. Paul's Square. One of the largest property management firms in Chicago, Draper and Kramer has a residential management portfolio of more than 8,000 rental units across Chicago, Dallas, St. Louis and San Antonio.
---
About Draper and Kramer, Incorporated
Founded in 1893, Draper and Kramer, Incorporated, is a trusted financial and property services provider with a deep commitment to people, excellence, service and integrity spanning more than 125 years. Family-owned and one of the leading privately held real estate services firms in the U.S., Draper and Kramer is headquartered in Chicago with a national reach and broad offering of services. The company's decades-long heritage has evolved over the years to meet the needs of its clients and today spans expertise in residential and commercial development, acquisition, property management and leasing; debt and equity financing for commercial properties; and residential mortgage services through affiliate Draper and Kramer Mortgage Corp. Draper and Kramer provides a single source of real estate-related counsel to a diverse group of real estate investors across the U.S. including corporations; private and institutional owners and users of real estate; government agencies; condominium associations; and foundations.