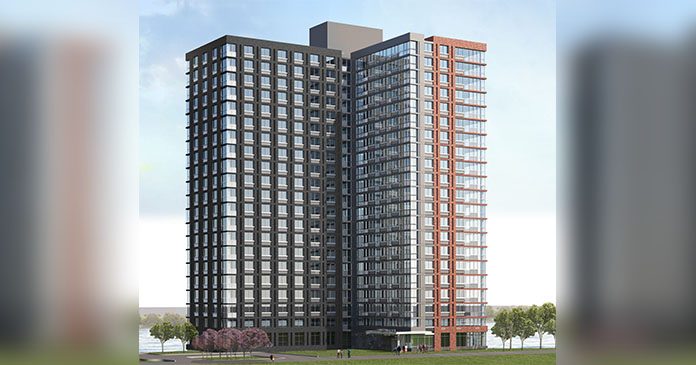 Related Companies and The Hudson Companies today announced the topping out of Riverwalk Park, a 100 percent affordable, 340-unit building at 460 Main Street on Roosevelt Island. Related and Hudson broke ground on the 21-story building in January. Riverwalk Park, planned as an Enterprise Green Communities Certified building, is the first newly constructed, permanently affordable housing ever developed on Roosevelt Island, is expected to be completed in 2021, bringing much needed affordable, middle-income and workforce housing to the Island and New York City.
"The realization of Riverwalk Park is the continuation of Related's nearly half century commitment to affordable housing and a focus on creating housing opportunities for all New Yorkers," said Bruce Beal Jr., President of Related Companies.
"We started the development of the Riverwalk neighborhood in 1997, and we're excited to add to this wonderful neighborhood of affordable housing, rentals, condominiums and housing for non-profit institutions," said David Kramer, President of The Hudson Companies.
Hudson is proud to reach this major milestone for our eighth building with Related in the Riverwalk neighborhood," said Alex Kaplan, Project Manager of The Hudson Companies. "Roosevelt Island is a unique and beautiful place and now 340 more families will be able to call the area home."
Jamar Adams, Vice President of Related Companies added, "This beautiful new building will offer critical housing to our City's working families and continue to support Roosevelt Island's renaissance as a vibrant diverse community."
The $135.8 million Riverwalk Park project was funded through a $19.8 million permanent subsidy loan provided by New York City Department of Housing Preservation and Development, $12.9 million in new volume cap exempt bonds provided by New York City Housing Development Corporation, and a $12.5 million loan from New York State Homes and Community Renewal under its Homes for Working Families program. Citi Community Capital served as the project's senior lender. Sixty percent of Riverwalk Park's units will be permanently affordable, with the remaining 40 percent affordable for 40 years.
Designed by Handel Architects, Riverwalk Park will house a mix of studio, one-, two-, and three-bedroom apartment homes, and offer a full suite of amenities to its residents. The building contains 81 studios, 158 one-bedrooms, 51 two-bedrooms, and 50 three-bedrooms. The application process will launch in 2020 through Housing Connect – New York City's housing lottery system. Depending on family and apartment size, income-level based rents will vary from a minimum of $505 a month for a studio to $3,431 for a three-bedroom.
Riverwalk Park is the eighth building developed by Related and Hudson in the Riverwalk neighborhood of Roosevelt Island. As part of the project, the development team, in partnership with Monadnock Construction, will also oversee renovation of Firefighters Field on Roosevelt Island, which includes a field relocation, the installation of park lighting, and the construction of a new neighborhood comfort station. Riverwalk Park, Firefighters Field and a comfort station are located adjacent to the recently opened Astoria Ferry Line.
---
About Related
Related Companies is the most prominent privately-owned real estate firm in the United States. Formed over 40 years ago, Related is a fully-integrated, highly diversified industry leader with experience in virtually every aspect of development, acquisitions, management, finance, marketing and sales. Headquartered in New York City, Related has offices and major developments in Boston, Chicago, Los Angeles, San Francisco, South Florida, Washington, D.C., Abu Dhabi and London, and boasts a team of over 3,500 professionals. With over $50 billion in assets owned or under development including the 28-acre Hudson Yards neighborhood development on Manhattan's West Side, Related was recently named to Fast Company Magazine's list of the 50 Most Innovative Companies in the World. Related has a long-term commitment to affordable housing and owns and operates a portfolio of more than 45,000 affordable and workforce housing units. Related and its partners also developed Hunter's Point South, the largest affordable housing development in New York City since the early 1970s.
About Hudson
The Hudson Companies Incorporated is a private real estate development company started in 1986 that has grown into a leading developer of new housing for all market segments in the New York metropolitan area. Hudson's principals and staff have a hands-on approach to managing the details of the development process from property acquisition, project finance and design, through construction and marketing. The firm is experienced in both new construction and rehabilitation, and is active across the affordable, institutional, and market-rate housing markets. To date, Hudson has completed 43 developments totaling $1.5 billion in costs.