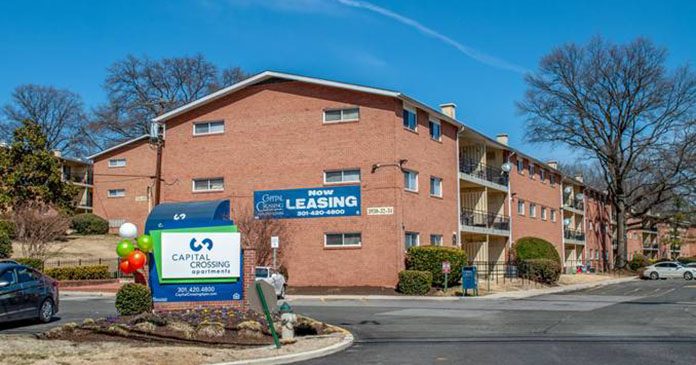 Castle Lanterra Properties (CLP), a New York-based national real estate investment firm, has announced the acquisition of Capital Crossing, a 359-unit apartment community located at 3930 Suitland Road in Suitland, Maryland—one of the strongest Class-B apartment markets in the Washington D.C. metro region. The acquisition underscores CLP's strong belief in the economic vitality of the Andrews/Suitland submarket, along with the upside potential that the region offers for investors.
Built in 1960, Capital Crossing is a collection of 15 multifamily buildings that include 359 apartments ranging between 705 and 1,080 square feet. The community consists primarily of one- and two-bedroom units, in addition to a small number of three-bedroom units and a single studio apartment. The property boasts a range of on-site amenities for residents, including a dog park, a playground area, laundry facilities, a modern business & community center and a fitness facility. The complex is approximately 96 percent occupied.
Capital Crossing's previous ownership group implemented a $1.9-million capital improvement plan over the past several years, renovating the leasing office, upgrading a small number of interior units and replacing HVAC systems. In line with its multifamily value-add strategy that it has deployed in key markets throughout the country, CLP plans to undertake an additional, extensive renovation campaign that includes: upgrading the building entrance and laundry rooms with new paint and flooring, installing a key fob access system, outfitting the community clubroom with new furniture and creating an outdoor kitchen with landscaped picnic areas.
"The Andrews/Suitland submarket is attractive largely due to its strong track record of job growth and industry diversification. The sustained growth of the local economy, coupled with its proximity to major job centers in Washington D.C., have accelerated housing demand," said Elie Rieder, CEO of Castle Lanterra Properties. "Because of Capital Crossing's attractive occupancy and location, the property had a highly competitive bidding process. Castle Lanterra's existing relationship with the seller gave our firm a competitive edge, which allowed us to ink a deal with a strong basis that provides us with downside protection."
Capital Crossing is located in Prince George's County, which has led Maryland in job growth for five consecutive years. Additional economic development initiatives from the local government have also helped to support the burgeoning submarket's accelerated economic activity in in the years to come.
"Local zoning was recently overhauled to spur transit-oriented development, and with several mixed-use projects underway, this region is well-positioned to harness continued growth," said Rieder. "While the apartment construction will bring thousands of new units to the market, the new properties under development are confined primarily to the luxury segment and will have monthly rents around $1,000 higher than those in Capital Crossing. Because of our ability to acquire this property at such a strong basis, we'll be able to execute our value-add plan while still remaining far below the price point of incoming units."
Located within blocks of the Washington D.C. border, Capital Crossing is centrally located in proximity to more than 83 million square feet of office/industrial space and major business centers. The apartment community is also located within a 5-mile radius of nearly 19 million square feet of retail real estate, shopping centers and restaurants. Residents have direct access to major retail and business centers in the Washington, D.C. region via public transportation options like the Suitland METRO Station or by traveling via the I-495/I-95 Capital Beltway.
The apartment community is also one mile from the $400-million Suitland Town Center, a focal point of the region, which offers a wide array of retail, dining and entertainment options in close proximity.
---
About Castle Lanterra Properties
Formed in 2009, Castle Lanterra Properties (CLP) is a privately held real estate investment company focused on the acquisition and management of quality income producing multifamily properties within strategic growth markets throughout the United States. Through a rigorous value-enhancement program that includes thoughtful renovations, operational improvements and ancillary income development, CLP aims to reposition each asset with the goal of maximizing NOI, elevating its competitive position within the market, and providing attractive risk-adjusted returns for its investment partners. CLP currently owns and manages over 7,000 units across 23 properties throughout the United States. For more information, visit https://castlelanterra.com/.