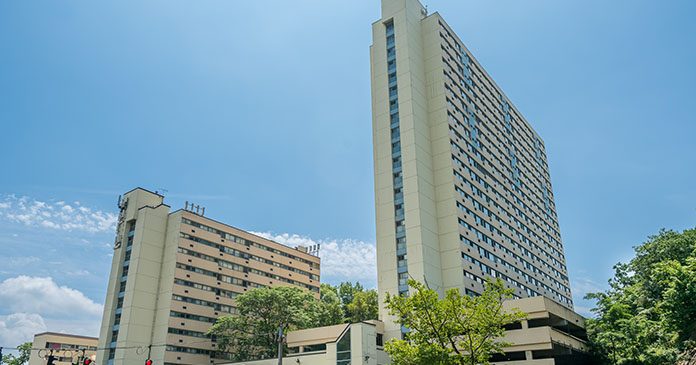 CBRE Affordable Housing and CBRE's New York Institutional Group is pleased to announce the sale of the 311-unit, affordable housing community Parkledge in Yonkers, NY. The property sold to Hudson Valley Property Group (HVPG) for $48.3 million. Tim Flint, Executive Vice President of CBRE Affordable Housing, along with Jeff Dunne, Gene Pride and Eric Apfel represented the seller in the transaction.
"New York continues to be a hotbed for affordable housing investments," said Tim Flint, EVP at CBRE Affordable Housing, "We saw multiple attractive offers on this property and were able to secure a great buyer for the property – ensuring that much needed affordable housing will stay available in the greater New York area."
"Yonkers continues to experience strong investor interest given its proximity to Manhattan and the vast improvements and redevelopment occurring throughout the city," said CBRE Vice Chairman Jeff Dunne.
The property has maintained a high occupancy of over 97 percent since 2016 and 90 percent of Parkledge's units are kept affordable by a LIHTC Land Use Restrictive Agreement. The property has a desirable mix of one-, two-, three-, and four-bedroom apartments, making Parkledge an attractive location for families. The property is a short 30-minute commute from downtown Manhattan.
Equity for the transaction was provided by Hudson Valley Preservation Fund. The new owner plans to preserve the property as quality affordable housing and continue to invest in the building, prioritizing renovations that will increase energy efficiencies and resident security and quality of life.
"My partner and I were born and raised in the Hudson Valley. We're excited to be able to ensure that Parkledge remains quality affordable housing for families here in Yonkers for many years to come," said Jason Bordainick, President at Hudson Valley Property Group. "We thank the City and IDA for their support and for CBRE in running a smooth process. We look forward to building upon the work of previous ownership in continuing to make the property a great place to call home for the residents."
CBRE Affordable Housing is a specialty group within CBRE Group, Inc. that combines investment sales, debt and structured finance, and investment banking into a fully integrated service offering for clients in the affordable housing industry. They have closed over $19.8 billion dollars in sales and financing since 2001 and have conducted transactions in all 50 states and Puerto Rico.
CBRE New York Institutional Group is currently marketing for sale La Bonne Vie, a 643-unit apartment community in Patchogue, NY; The Royce, a 340-unit apartment community in Trumbull, CT; The Monroe, a 148-unit apartment complex in Morristown, NJ; Avalon Shelton, a 250-unit apartment community in Shelton, CT; and The Waypointe, a 464-unit apartment community in Norwalk, CT.
---
About CBRE Group, Inc.
CBRE Group, Inc., a Fortune 500 and S&P 500 company headquartered in Los Angeles, is the world's largest commercial real estate services and investment firm (based on 2017 revenue). The company has more than 80,000 employees (excluding affiliates), and serves real estate investors and occupiers through approximately 450 offices (excluding affiliates) worldwide. CBRE offers a broad range of integrated services, including facilities, transaction and project management; property management; investment management; appraisal and valuation; property leasing; strategic consulting; property sales; mortgage services and development services.