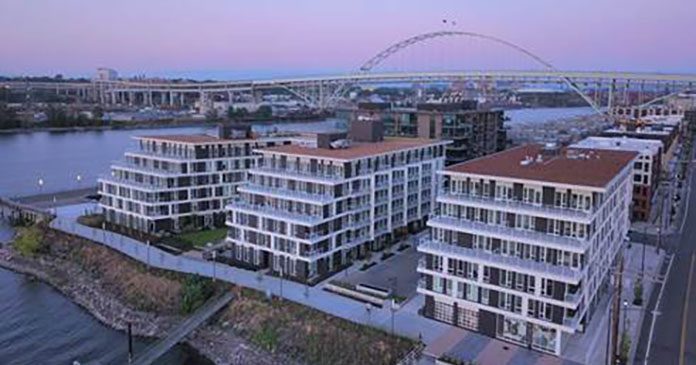 Fore Property ('Fore'), one of the country's top 20 largest multifamily developers, today announced the sale of Rivage, a 260-unit apartment community in Portland, Oregon, to Magnolia Capital.
Rivage was stabilized at the time of sale.
The podium-style waterfront apartment complex is located at 2220 NW Front Avenue, immediately adjacent to Portland's highly desirable Pearl District and Slabtown neighborhoods. Boasting a best-in-class amenity package, including a rooftop deck overlooking the Willamette River, Rivage features a mix of spacious studio, one- and two-bedroom apartments outfitted with high-end finishes and features. The upscale community also provides its residents with easy access to mass transit, expanding employment opportunities, and highly rated schools.
"Recognizing the vast potential for multifamily development, we've been active in the Portland metro area for several years. By adhering to our core values and executing with precision, we were able to provide a high-quality, stabilized rental community to the region that meets the everyday needs of its residents and offers contemporary conveniences in a prime waterfront location," said Fore Property Vice President Lee Novak. "This transaction demonstrates the success of Fore's regionally tailored investment strategy and the quality of our approach and product, which enables us to consistently generate excellent returns for our investors."
In 2017, Fore Property and funds from Carlyle Realty Partners VII, a fund sponsored by global investment firm The Carlyle Group, provided equity capital and PNC Bank provided financing to develop the North Pearl District apartment community.
In addition to the sale of Rivage, Fore recently announced the opening of three new apartment communities in the Portland metro area: Revere, a 211-apartment community located in the historic Mississippi Neighborhood; Northpointe Apartments, a 158-unit community in Portland's Overlook Neighborhood; and Hearth, a 179-unit community located in Vancouver, Washington.
---
About Fore Property
Throughout its 25-year history, Fore Property has proudly created a legacy by developing, building, and managing more than 25,000 market-rate, affordable, and senior living units in apartment communities and mixed-use developments nationwide. Led by an executive team of recognized industry visionaries, Fore employs its time-tested expertise to generate reliable, opportunistic returns for its investment partners—a strategy that the company adapts to every region and neighborhood in which it works. As one of the nation's 20 largest multifamily developers, Fore maintains a commitment to quality through its vertically integrated approach, earning the company a growing base of long-term investors and collaborators.
About The Carlyle Group
The Carlyle Group is a global investment firm with deep industry expertise that deploys private capital across four business segments: Corporate Private Equity, Real Assets, Global Credit and Investment Solutions. With $223 billion of assets under management as of June 30, 2019, Carlyle's purpose is to invest wisely and create value on behalf of its investors, portfolio companies and the communities in which we live and invest. The Carlyle Group employs more than 1,775 people in 33 offices across six continents.