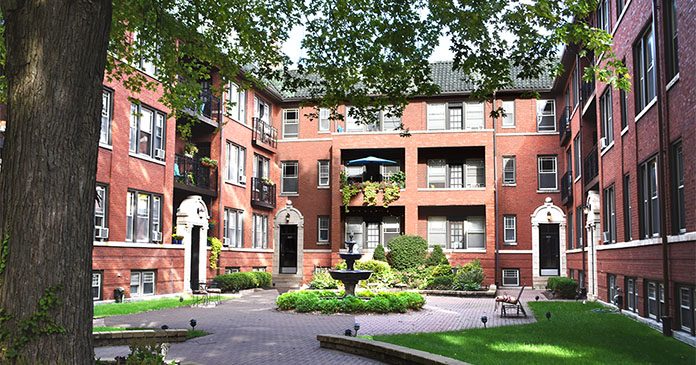 Kiser Group, Chicago's leading multifamily brokerage firm, recently brokered Dover Court Condominiums for $12.5 million in a Section 15 deconversion sale. The buyer, Neriel Lagoon LLC, acquired the property and will convert all of the units to apartments. The deal was brokered by Kiser Group's Rick Ofman and Andy Friedman.
"For over a year and a half we had been receiving unsolicited offers to purchase the property," said condo board member Michael Wolff. "We decided to hire a broker that would represent not only all 64 unit owners' best interests but also find the right buyer that would be able to close the deal. Rick and Andy exceeded our expectations with their market knowledge, buyer pool and willingness to assist individual owners through the entire deconversion process."
"Unlike many condo deconversions, Dover Court did not have a bulk unit owner; 64 units were owned by 64 different people," said Andy Friedman. "The property was otherwise a perfect representation of why associations choose to pursue a deconversion sale: a high percentage of rental units in the building, depressed resale values, and looming special assessments. This sale allowed those that purchased in the frenzied days of 2007 and 2008 to finally recoup their purchase price and was a welcome exit for owners that had been turned into accidental landlords. We are proud to have addressed the unit owners' concerns and negotiate favorable lease-back terms during the transition."
The 64-unit, 3-story building was initially built in 1925 as apartments. It later converted to condominiums in 2007. The units are predominantly one-bedrooms, with a small percentage of two- and three-bedroom units.
"The Uptown apartment market continues to see an increase in investor interest," said Rick Ofman. "During the marketing phase, Dover Court had over 50 property tours and received numerous offers within 5% of the final sale price.  With all the new construction apartment buildings underway in Uptown, this transaction proves that the demand for vintage properties remains strong."
"Kiser Group has a long history with the Dover property," said Lee Kiser, Principal and Managing Broker with Kiser Group. "Dover Court is the first property our firm has sold on four separate occasions. We first sold the property in 1998, then in 2000, again to the developers that converted the property to condos in 2007 and now brokered the deconversion back to apartments in 2019."
---
About Kiser Group
Kiser Group is Chicagoland's leading commercial real estate brokerage firm specializing in the disposition of multifamily, mixed-use and development parcels. Founded in 2005, Kiser Group works with diverse owners and investors to value, market and close commercial properties successfully. The firm's unmatched combination of experience, market intelligence and track record makes Kiser Group the go-to broker for the Chicago metropolitan area.