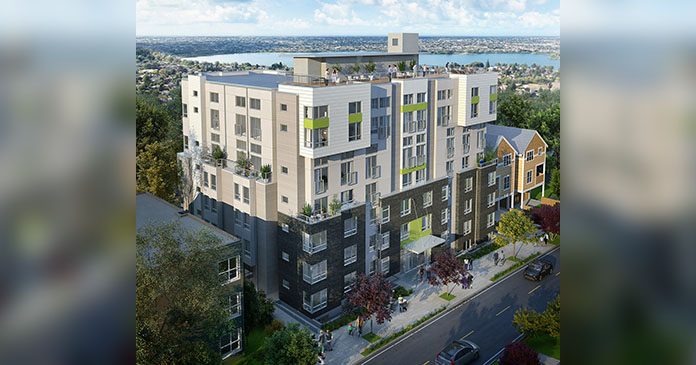 Knighthead Funding LLC, has originated two separate loans totaling $29.85 million in first mortgage debt secured by a micro-unit rental property in the Roosevelt neighborhood and a student housing property located near the University of Washington, in Seattle, Washington.
The two deals were the second and third projects that Knighthead has funded in Seattle over the past nine months.
In the larger of the two financings, Knighthead provided an affiliate of Barcelo Homes with a $25.25 million loan secured by a 178-unit micro studio apartment project located within walking distance to the new Roosevelt light rail. Amenities include a lounge, courtyard, fitness center, rooftop deck, bike storage, common laundry area, and controlled access entry. The financing takes out the existing construction loan and provides the runway needed to lease the property.
Knighthead also provided Vekst Development with a $4.6 million loan secured by a new 28-unit studio apartment development located four blocks from the University of Washington. Knighthead's financing will allow the sponsor to complete a rooftop deck and punch list items on the newly constructed four-story building.
"Each property's proximity to the University of Washington, the light rail and all necessary amenities make both attractive housing options for tenants," said Knighthead Funding Vice President, Henry Boeckmann.
Since the company's inception in 2013, Knighthead Funding has originated more than $1 billion of short-term debt, having delivered 103 loans on various asset types across 19 states.
'These recent Seattle closings further demonstrates our team's collective experience to structure loans that meet our borrowers' specific requirements and rigid timeframes on a nationwide basis," said Jonathan Daniel, a Principal at Knighthead Funding.
---
About Knighthead Funding LLC
Knighthead Funding, LLC is a national real estate finance company specializing in loans for the acquisition, renovation, construction and refinancing of commercial real estate across all asset classes. Knighthead originates loans for its managed real estate debt funds and Knighthead Annuity & Life Assurance Company. Knighthead Funding is an affiliate of Knighthead Capital Management, LLC, a New York-based SEC registered investment management firm.