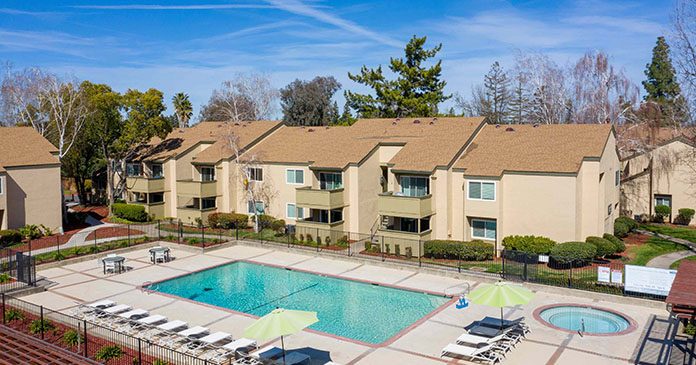 Pathfinder Partners, a San Diego-based firm specializing in value-add multifamily real estate investments, announced today the $28,825,000 acquisition of Rosemont Park – a 170-unit apartment community near the center of downtown Rosemont at 9190 Schmuckley Dr., Sacramento, Calif., 94533.
According to Mitch Siegler, senior managing partner at Pathfinder Partners, "Rosemont Park presents a tremendous value-add opportunity to further upgrade interiors and enhance the apartment community's amenity package. Rosemont Park is located in a supply constrained submarket with no scheduled construction which has resulted in high demand for renovated communities. Additionally, the property, conveniently located near the Highway 50 Corridor, features over 12 million square feet of office space and is home to many of the area's top employers."
Constructed in 1978, Rosemont Park offers a unique mix of one-, two-, three- and four-bedroom units, as well as 21 townhomes, ranging from 537 to 1,400 square feet (averaging 790 square feet). The property features a mix of original unit interiors and renovated units with upgraded vinyl plank flooring, resurfaced countertops, stained cabinetry and dual-pane windows. Each spacious unit features central heating and air conditioning, an open floorplan and large balconies or patios. The community offers a variety of amenities including reserved covered parking, a courtyard with a community garden, resident package lockers, 24-hour card-operated laundry facility, shaded BBQ and picnic area, pool, spa and an open area to host community events.
Siegler continued, "One of the primary contributors to the economic expansion of Rosemont is the large number of San Francisco Bay Area residents who continue to be attracted to the Sacramento area for its affordability and proximity to the Bay Area – in 2018, Sacramento had in-migration of more than 27,000 people. The Sacramento area's family friendly environment and affordable cost of living should spur strong growth in Rosemont for years to come."
Rosemont Park is located 10 miles east of downtown Sacramento near Highway 50, light rail transportation and local city bus routes, providing access to Downtown Sacramento and major employers such as Verizon, Aerojet Rocketdyne, VSP Global and HealthNet. Within 2.5 miles of the property, families have access to three elementary schools, a middle school and a high school as well as a nearby retail center.
---
About Pathfinder Partners, L.P.
Headquartered in San Diego, Pathfinder Partners was founded by Lorne Polger and Mitch Siegler in 2006 to make opportunistic investments in distressed real estate assets and value-add properties. Pathfinder has acquired or sold $1 billion of properties since inception. In addition to seeking opportunities to add value by providing liquidity to selling financial institutions, liquidating funds and fatigued owners, Pathfinder also seeks to maximize value through property enhancements, improvements in operations and marketing, property repositioning and other strategies. For more information on the firm or Pathfinder Partners, visit www.pathfinderfunds.com or contact Mitch Siegler at msiegler@pathfinderfunds.com or 858-875-4455.