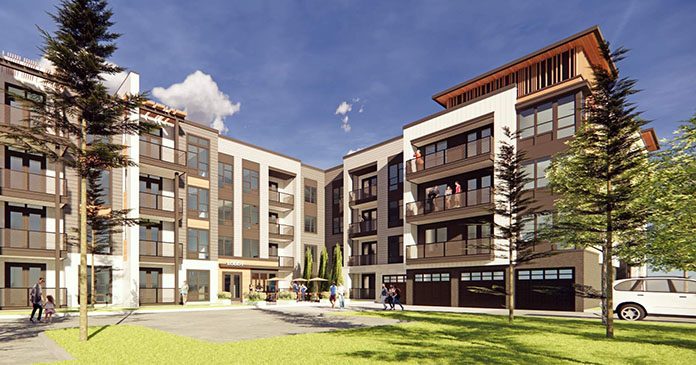 Diversified real estate investment and management firm Presidium has broken ground on Presidium at Town Center, a luxury residential community in one of Jacksonville, Florida's most sought-after entertainment districts. Expected to be complete in mid-2021, the four-story, 470,000-square foot development will offer private resort-style living with the modern conveniences of its central location in St. Johns Town Center.
"Following the success of our first Jacksonville development, the neighboring JTB Luxury Apartments, Presidium at Town Center will give residents the same remarkable views of the surrounding nature conservation area," said John Griggs, Co-CEO and Co-Founder of Presidium. "The convenient access to shops, restaurants, offices and entertainment make this community the best in living experiences."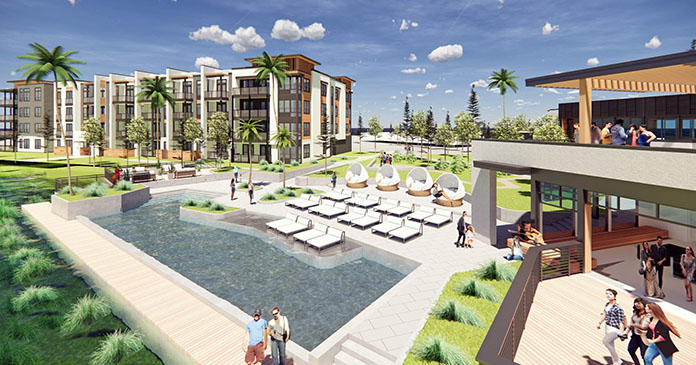 Constructed on a 17.51-acre site, Presidium at Town Center will feature 370 units with upscale finishes, energy efficient stainless steel appliances, and 9-10' ceilings. The community will enjoy a resort-style pool, and a 10,000-square foot leasing/amenity building containing a club room, game room, fitness center and more. Residents of this gated community will have exclusive access to a rooftop terrace and lounge overlooking the pool.
"The Jacksonville real estate market is booming as we continue to see more residents and visitors making their way to this prominent North Florida metropolis," said Presidium's President of Development Mark T. Farrell. "As first-class developers, it is our job to ensure that every community adds value to Jacksonville, and will continue to fuel the real estate market growth in the area."
Wade Powers and Bob Selton with Colliers International Northeast Florida represented the Jacksonville Transportation Authority (the seller) in this transaction. Presidium selected Dwell Design Studio to be the architect, Connolly and Wicker as the civil engineering firm and Dix.Hite + Partners as the landscape architect.
---
About Presidium
From humble beginnings in 2003, Presidium has grown to over 300 team members and over 70 assets under management, valued in excess of $1.5 billion. Presidium's team is distinguished by the diversity, depth and character of its people. We represent a spectrum of disciplines including law, finance, government, accounting, acquisitions, asset management, special servicing, property management, public-private partnerships, development and construction.
Presidium focuses on sculpting a sense of place, immersed in sustainable, technology rich environments. Places where nature and humanity are brought together through thoughtful design. We understand that a community is about more than concrete sidewalks or asphalt parking lots, it's about creating a place to call home, where people can live, work and play in an enriched environment that has a positive impact on the surrounding area.