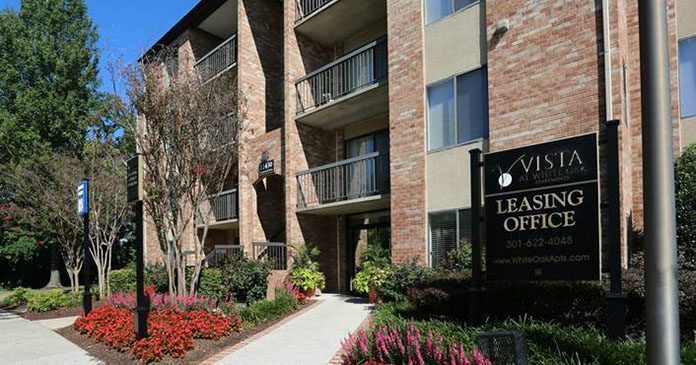 The Donaldson Group of Rockville, MD and Declaration Partners of New York City have acquired Vista at White Oak Apartments, a 272-unit garden style apartment community located in Silver Spring, MD in an off-market transaction. The acquisition price was approximately $53.0 million.
The partnership plans a renovation program to include unit upgrades, common area enhancements, exterior improvements, and mechanical system modernization.
Maxi T. Leachman and David Webb of CBRE Capital Markets assisted the partnership in obtaining acquisition financing from Freddie Mac.
Situated on approximately 11 acres, Vista at White Oak is located in Montgomery County adjacent to the White Oak Federal Research Campus, home to headquarters of the US Food and Drug Administration (FDA), which borders the US Army Adelphi Laboratory Center. It is less than one mile from Viva White Oak, a $3 billion, 12 million square foot planned mixed-use Life Science Village. The property has direct access to US Route 29 (Columbia Pike) and is a short distance to I-495, the Intercounty Connector, and I-95.  Twenty percent of the units are affordable under the US Department of Housing and Urban Development's Housing Assistance Payment (HAP) program.
"Vista at White Oak is a well-located, well-built apartment community in a very strong location," said John Majeski, Senior Vice President, The Donaldson Group. "We are extremely pleased to have executed another transaction with Declaration Partners, and we will continue to seek similar opportunities in the future."
---
About The Donaldson Group
The Donaldson Group, LLC is a full-service real estate management and investment company located in Rockville, MD. Over the last 15 years, TDG and its affiliate, TDG Capital Partners, LLC have advised clients on acquisitions of over $1.75 billion in multifamily real estate investments comprising approximately 18,000 units, taken over management of over 30,000 multifamily units, advised clients in disposing of over $1.25 billion in multifamily real estate investments totaling approximately 16,000 units, recapitalized approximately 5,000 units valued at over $350 million, and managed over $350 million in construction/renovation work.
About Declaration Partners
Declaration Partners is an investment firm backed by the family office of David M. Rubenstein, the Co-Founder and Co-Executive Chairman of The Carlyle Group. Declaration Partners makes private equity and real estate investments, including building platform businesses, providing growth equity capital, seeding early stage private funds and venture studios, and partnering with family-owned businesses.