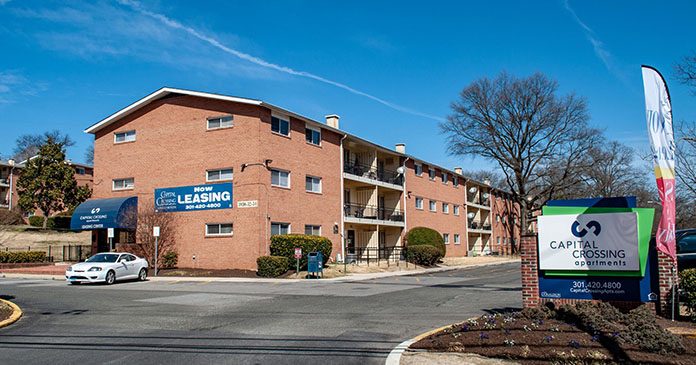 Transwestern Commercial Services (TCS) announces its Mid-Atlantic Multifamily Group has brokered the sale of Capital Crossing, a 359-unit, value-add investment property in Suitland, Maryland. Hampshire Properties sold the garden-style asset to Castle Lanterra for $52 million, or $144,847 per unit. TCS Executive Vice Presidents Robin Williams and Dean Sigmon, Vice President Justin Shay and Multifamily Analyst Michael D'Amelio represented the seller in the transaction.
The property offered substantial renovation fundamentals, with several competitive communities in the immediate submarket demonstrating a healthy demand for higher-end finishes and growing rental premiums. The location provides direct access to both Suitland and Naylor Road Metro stations, Interstate 495 and 95 and employment centers in one of the best-performing markets in the region.
"Capital Crossing is a strategic purchase by Castle Lanterra, as the Suitland market is supply-constrained for multifamily product," said Williams. "There is considerable upside potential to increase rental revenue by completing renovations on approximately 200 remaining units."
Low vacancy and strong historical rent growth have positioned Suitland as one of the region's strongest and most consistent performers. Capital Crossing is located directly adjacent to the Ashton Heights community, another multifamily asset TCS closed earlier this month for a price of $45.8 million. Over the past 12 months the team has sold seven apartment communities in Prince George's County, including Capital Crossing, totaling 2,682-units with a combined value of $358 million.
"Investor interest was extremely strong for both Capital Crossing and Ashton Heights Apartments," said Sigmon. "In this region, assets with such low vacancy that offer yield investment opportunities and organic rent growth are scarce."
Rental demand and job growth in Suitland have outpaced many submarkets in the Washington, D.C., region, allowing Capital Crossing to garner strong monthly rental premiums from current renovations.
Capital Crossing achieved consistent effective net growth during ownership while maintaining strong occupancy levels above 95 percent during the same period.
The TCS Mid-Atlantic Multifamily Group provides a full range of Investment Sales Services throughout Washington, D.C., Northern Virginia, Richmond, Baltimore, Philadelphia and Delaware. The group's recent client roster includes Sentinel Real Estate, Federal Capital Partners, Foulger Pratt with DLJ, Hampshire Properties, Aimco, Avalon Bay, Equity Residential, The Bozzuto Group, Fannie Mae, AIG Investment, Morgan Properties, Goldman Sachs, JP Morgan and Angelo Gordon.
---
About Transwestern Commercial Services
Transwestern Commercial Services (TCS) is a privately held real estate firm of collaborative entrepreneurs who deliver a higher level of personalized service and innovative client solutions. Applying a consultative approach to Agency Leasing, Asset Services, Occupier Solutions, Capital Markets and Research, our fully integrated global organization adds value for investors, owners and occupiers of all commercial property types. We leverage market insight and operational expertise from across the Transwestern enterprise, which includes firms specializing in development and real estate investment management. TCS has 34 U.S. offices and assists clients from more than 200 offices in 37 countries through strategic alliances with France-based BNP Paribas Real Estate and Canada-based Devencore.