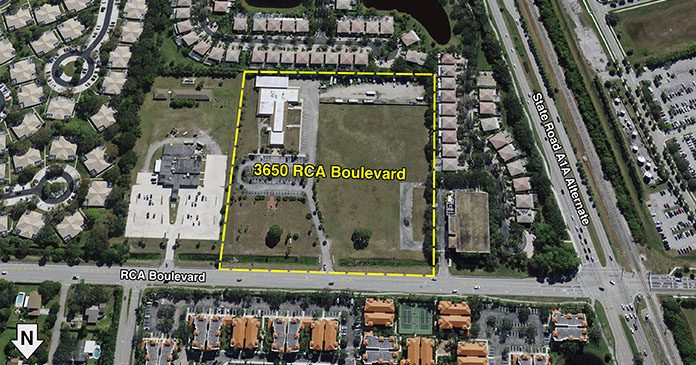 Cushman & Wakefield has negotiated the sale of a ±10.44-acre commercial site at 3650 RCA Blvd. in Palm Beach County.
The South Florida industrial team of Christopher Thomson, Chris Metzger, Richard F. Etner Jr. and Matthew G. McAllister, along with Mark L. Pateman and Tara England, represented Amara Temple Holding Corporation, Inc. in the disposition. An affiliate of Troy, NY-based United Group acquired the land for $8.25 million ($790,230 per acre).
The site is located in the heart of Palm Beach Gardens, a short distance from Interstate 95, State Road A1A Alternate and PGA Blvd., providing immediate access to nearby retail and dining amenities such as Legacy Place, The Gardens Mall and Downtown at the Gardens.
The land was re-zoned by the buyer for Planned Unit Development (PUD) during the contract entitlement period. The property currently houses the Amara Shrine Center's ±17,084-square-foot clubhouse and exterior storage.
United Group plans to create a state-of-the-art independent living facility with parking and amenities. Amara Shrine Center will be relocating its clubhouse and meeting space to a new location.
"Infill sites offering development opportunity and exceptional access to the surrounding community, amenities and roadways are a rare commodity in the South Florida market," said Thomson.
"The property's location in the heart of thriving Palm Beach Gardens with excellent area demographics attracted significant interest from multifamily residential, assisted living facility and independent living facility investors and developers," added Pateman.
The eight-member South Florida Industrial team led by Metzger, Etner Jr. and Thomson has negotiated just over 5.5 million square feet of sale and lease transactions valued at more than $168 million to date in 2019.
Pateman is the Managing Principal for Cushman & Wakefield in Palm Beach County and leads an agency leasing team with over 2.5 million square feet of office product.
---
About Cushman & Wakefield
Cushman & Wakefield is a leading global real estate services firm that delivers exceptional value for real estate occupiers and owners. Cushman & Wakefield is among the largest real estate services firms with approximately 51,000 employees in 400 offices and 70 countries. In 2018, the firm had revenue of $8.2 billion across core services of property, facilities and project management, leasing, capital markets, valuation and other services.