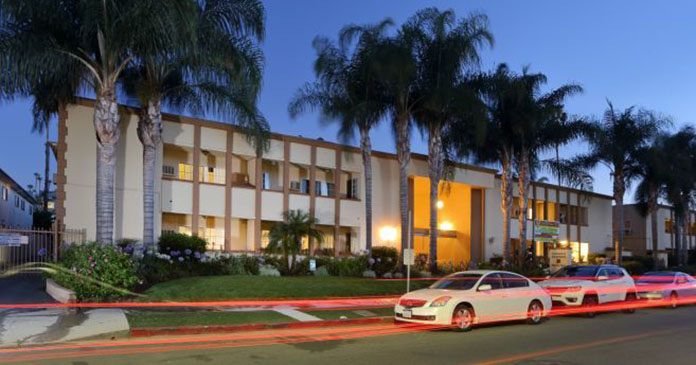 Institutional Property Advisors (IPA), a division of Marcus & Millichap, announced today the sale of Cambridge Apartments, an 88-unit apartment complex in the Sherman Oaks neighborhood of Los Angeles, California. The property sold for $29.35 million in a 40-day transaction period. The price per unit is $333,523.
"Constructed in 1962 in one of the preeminent multifamily markets in Southern California, the property has significant value-add potential," said Joe Grabiec, IPA senior managing director. Grabiec, along with IPA senior managing director Kevin Green and executive director Greg Harris, represented the seller, a joint venture between NNC Apartment Ventures and Bailard Inc. The buyer is Interstate Equities Corporation. "Only two other 75-plus unit multifamily properties have been sold in the neighborhood in the last five years," added Green.
Consisting of two contiguous 44-unit buildings on separate and adjoining parcels, the property is near Van Nuys and Ventura boulevards, two of Sherman Oaks' main thoroughfares, and less than two miles from the 101/405 freeway interchange. Residents have access to many employment centers in greater Los Angeles, including Burbank/Glendale, Woodland Hills/Warner Center, and West Los Angeles. The recently renovated Westfield Fashion Center is a 10-minute walk away.
"Sherman Oaks is home to some of the most affluent residents in the entire San Fernando Valley," concluded Grabiec. "Average income is 35 percent higher than the San Fernando Valley as a whole and nearly 60 percent of the population holds a college degree."
---
About Institutional Property Advisors (IPA)
With a network of senior-level investment advisors located throughout the United States and Canada, Institutional Property Advisors (IPA) is qualified to meet the needs of institutional and major private investors. IPA's combination of real estate investment and capital markets expertise, industry-leading technology, superior support services and acclaimed research offer customized solutions for the acquisition and disposition of institutional properties and portfolios.