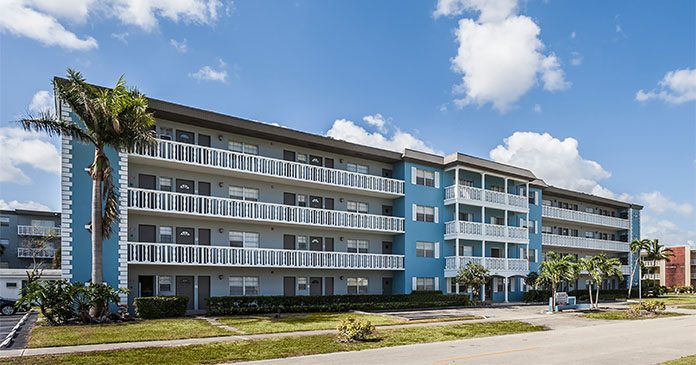 Aztec Group, Inc., Florida's leading real estate investment and merchant banking firm for the past 38 years, announces that its brokerage team led by Peter Mekras, President Aztec Group, has arranged the bulk condominium sale of 150-units within the Luna at Hollywood Condominium in Hollywood, Florida. Luna at Hollywood is located just south of Hollywood Boulevard and west of I-95 in Broward County. The 192-unit condominium has four buildings, two associations and a master association. The property was built in 1968 and converted to condominiums in 2007. A majority of the remaining unsold condo inventory was acquired by the seller in 2015 and has been operated as rental apartments for the last four years.
Aztec Group was engaged on an exclusive basis by the seller to conduct a broad marketing process. Aztec Group received over 180 signed confidentiality agreements and conducted 30 formal property tours. After receiving and evaluating 15 competitive offers, a buyer was selected, and the property was contracted and sold subject to the buyer assuming the seller's existing loan. The existing financing was a securitized loan of $10.55 million that does not allow for secondary financing. The seller is a private Illinois-based, owner-operator and the buyer is an affiliate of Prashkovsky Investments USA, LLC. There were no other brokers involved in the transaction.
"Executing complex transactions requires a team focused on the assignment," said Peter Mekras, President of Aztec Group. "A strategic approach was required to overcome prospective buyer concerns with the property's age and fractured condo dynamics. Aztec's unique market and transactional expertise enabled us to source a very qualified buyer able to assume the seller's existing low leverage debt financing and avoid a material prepayment penalty."
Mekras and Aztec Group's team remains active in the multifamily arena in Florida. Recently completed multifamily transactions in Florida include land and community sales in addition to debt and joint venture equity financing for market rate and senior multifamily projects, including the $142 million debt financing for Square Station in Miami and $18 million in joint-venture equity for the development of Arcadia in Palm Beach Gardens.
---
Aztec Group
Founded in 1981, Aztec Group, Inc. specializes in facilitating the acquisition, disposition, financing and capital needs of real estate projects for institutional investors, entrepreneurs and commercial developers as well as offshore clients. Aztec has long been recognized as the premier real estate capital markets intermediary and merchant banking firm in the Southeast, handling over $10 billion in transactions during the past decade. The company is also considered an innovator, often seeing opportunities for clients before they become apparent in the marketplace.