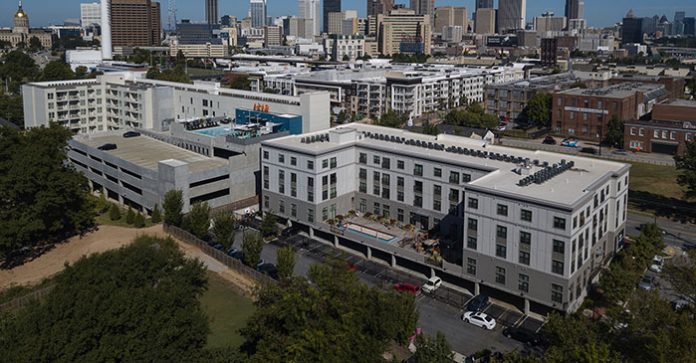 Cushman & Wakefield has arranged the $48.15 million sale of The George & The Leonard, two apartment communities totaling 217 units along Memorial Drive in Atlanta, Georgia. Mike Kemether, Robert Stickel and Alex Brown of Cushman & Wakefield represented the sellers, Urban Realty Partners and Case Pomeroy Properties, in the transaction. Grubb Properties acquired the buildings.
"Urban Realty Partners has a deep understanding of Atlanta's evolving intown submarkets and were the first to develop on Memorial Drive," Brown said. "They were able to capitalize on their vision as the submarket grew around them. Grubb Properties saw an opportunity to acquire these two assets and make thoughtful improvements that will boost income while offering rents that are well below new construction."
The George & The Leonard include 11,581 square feet of boutique retail and are integrated with Atlanta's BeltLine Trail, connecting The George & The Leonard to some of the city's leading amenities. Furthermore, The George & The Leonard's Memorial Drive location provides direct connectivity to Midtown and Downtown, Atlanta's major hubs for jobs and culture.
Cushman & Wakefield's Southeast Multifamily Advisory Group ranked No. 1 in market share in 2018 based on closed transactions, totaling more than $4.5 billion in sales volume, according to Real Capital Analytics.
---
About Cushman & Wakefield
Cushman & Wakefield is a leading global real estate services firm that delivers exceptional value for real estate occupiers and owners. Cushman & Wakefield is among the largest real estate services firms with approximately 51,000 employees in 400 offices and 70 countries. In 2018, the firm had revenue of $8.2 billion across core services of property, facilities and project management, leasing, capital markets, valuation and other services.