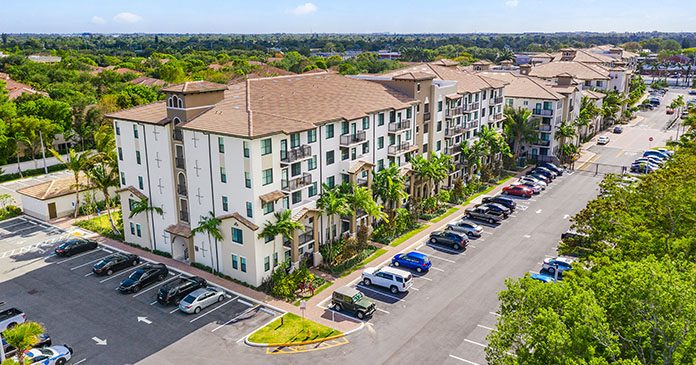 Cushman & Wakefield, as exclusive advisor, has negotiated the sale of Ventura Pointe, a premier garden-style apartment community in the Broward County city of Pembroke Pines. The Class A, 206-unit asset sold for $55.6 million, or approximately $270,000 per unit.
Vice Chairman Robert Given, Executive Managing Director Troy Ballard, Executive Managing Director Zachary Sackley, and Director Neal Victor, of Cushman & Wakefield's Florida Multifamily Team, arranged the disposition on behalf of the seller and developer, Ventura Pointe Housing, LP, an affiliate of Palm Beach Gardens-based Eastwind Development. The buyer is Miami-based multifamily investment firm Lloyd Jones, LLC.
Ventura Pointe is situated at 7850 Pasadena Blvd. off University Drive, a major north to south thoroughfare with drive-by exposure to 53,000 cars per day. The property offers walkability to a variety of retail and other amenities, including a new Lucky's Market and the 301-bed Memorial Hospital Pembroke, both opening soon.
The central location provides excellent access to the nearby employment markets of Miramar, Plantation and Sunrise. It is also convenient to the South Florida's "Education Corridor," which is comprised of five higher learning institutions with a combined 65,000 students. The largest of the schools is the main campus for Nova Southeastern University. In addition, proximity to Florida's Turnpike, I-75, I-95 and I-595 provides short commutes to the major employment centers of Sawgrass Park and downtown Fort Lauderdale.
"This deal is particularly important to our team, as Troy and I were involved in selling the site to Eastwind a few years ago," said Given. "It's always very meaningful to us when we can help our clients execute their business plans from start to finish."
Eastwind Development acquired the Ventura Pointe site in April 2016 for $6.3 million.
Ventura Pointe was completed in 2018. The garden-style property is comprised of two four-story buildings and two five-story buildings on 9.8 acres. Its one-, two- and three-bedroom units average 958 square feet and feature open layouts with nine-foot ceiling and high-end finishes.
Onsite amenities include a resort-style pool with a lounge area, summer kitchen and grills, as well as an indoor lounge with an entertainment kitchen, billiards, 24-hour fitness center and conference room/business center. On the east side of the property, a two-acre park with provides a 0.2-mile, lakefront path to run or walk a dog.
"Ventura Pointe represents the type of smaller mid-rise community in an in-fill location that Eastwind often develops. We're excited to add Ventura Pointe to our growing list of successful projects throughout Florida," said Jack Weir, President and Founder of Eastwind Development. "We appreciate the support of our partners at North American Development Group."
Eastwind currently has projects underway in South Florida in West Palm Beach's emerging Warehouse District and in eastern Palm Beach Gardens, near the Intracoastal Waterway.
Cushman & Wakefield's Florida Multifamily Team is directed by Given and includes Ballard, Sackley, Executive Managing Director Calum Weaver, Victor, James Quinn and Errol Blumer in South Florida; Jay Ballard and Ken Delvillar in Orlando; Luis Elorza, Brad Capas, Nicholas Meoli and Michael Donaldson in West Florida; and Julie Bohn in Jacksonville. Robert Kaplan, Chris Lentz and Mark Rutherford facilitate debt, equity and structured finance transactions for the team throughout Florida.
---
About Eastwind Development
Eastwind Development, LLC was founded in 2007 by John "Jack" Weir, who previously served as Senior Vice President for a privately held Florida multifamily development group. Eastwind Development and its affiliate, Eastwind Acquisitions, LLC, are based in Palm Beach Gardens, Florida, and focus on the multifamily rental housing throughout Florida. Eastwind Development focuses on the development of new multifamily housing and has both a market division and a workforce/ affordable division. Eastwind Acquisitions concentrates on the acquisition of land for new development projects or purchasing existing multifamily assets that provide minor rehabilitation and value-added opportunities or that can be purchased at a significant discount to replacement cost.
The Eastwind team offers a depth of development and acquisition/rehabilitation experience, a strong value orientation in selection of investment opportunities, rigorous standards for project team selection, detailed attention to development and acquisition execution and an ongoing commitment to high quality building and resident satisfaction. To learn more visit www.eastwinddevgroup.com. 
About Cushman & Wakefield
Cushman & Wakefield is a leading global real estate services firm that delivers exceptional value for real estate occupiers and owners. Cushman & Wakefield is among the largest real estate services firms with approximately 51,000 employees in 400 offices and 70 countries. In 2018, the firm had revenue of $8.2 billion across core services of property, facilities and project management, leasing, capital markets, valuation and other services.