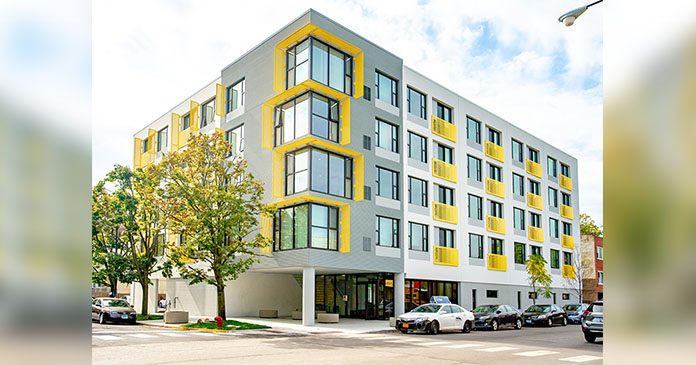 Evergreen Real Estate Group, in partnership with the Chicago Housing Authority, has announced the completion of Oso Apartments, a 48-unit affordable rental community at 3435 W. Montrose Ave. in Chicago's Albany Park neighborhood. The developer was joined by 35th Ward Ald. Carlos Ramirez-Rosa and officials from the Chicago Housing Authority, Illinois Housing Development Authority and North River Commission at a ribbon-cutting event on Oct. 10.
"Oso Apartments is a welcome addition to Albany Park, providing beautiful and dignified affordable housing that was so desperately needed," said Ald. Ramirez-Rosa. "In 2017, the Institute for Housing Studies at DePaul University identified Albany Park as one of the communities with the highest displacement pressure in the city of Chicago, where rising rents were pushing more and more working people out. The community came together with unanimous support for the project, and it was made possible by the developers and other partners who showed that they have a heart. The result is this wonderful housing for working families."
Located at the southwest corner of Montrose Avenue and Bernard Street, on land that was formerly vacant, the new five-story building has 32 one-bedroom and 16 two-bedroom apartments, which are nearly fully occupied. Of the 48 apartments, 32 are set aside for CHA residents. Fourteen units are reserved for households earning up to 60% of the area median income, while the remaining two units are reserved for households earning up to 50% of AMI.
"The completion of Oso Apartments is a significant achievement, as it shows how previously underutilized sites can be reimagined as thoughtfully designed housing that supports the economic diversity of our city," said David Block, director of development at Evergreen Real Estate Group. "We still have a long way to go in addressing Chicago's affordable housing shortage, but this project and nearby developments like the Independence Apartments and Independence Branch Library represent progress in our mission of creating and preserving housing that allows neighbors to stay in their existing neighborhoods."
The $10 million project was funded, in part, with federal low-income housing tax credits and trust funds from the Illinois Housing Development Authority. Other financing partners included the Chicago Housing Authority, ComEd Energy Grant, US Bank and Citi Bank.
"CHA has been committed to building strong, vibrant communities throughout this great city. This is an example of that commitment," said Jewell Walton, deputy chief of the CHA's Rental Assistance Demonstration (RAD) program. "This beautiful new building was made possible through project-based vouchers that support developments through long-term affordability. It's another tool we use to reiterate our pledge to deliver greater housing opportunity to all of Chicago's 77 community areas."
IHDA Multifamily Financing Director Christine Moran added, "The Illinois Housing Development Authority was pleased to partner with Evergreen Real Estate Group and the city of Chicago to transform a vacant lot into a new, modern and affordable rental community. This is an impactful development that will add diversity and depth to the local housing stock, helping the Albany Park area remain affordable and accessible as the neighborhood continues to grow."
On-site amenities at Oso include a public plaza at the corner of Montrose and Bernard, as well as a smaller landscaped area for residents, located on the west side of the property. In addition, Oso offers a large community room, which can be subdivided into two separate rooms, as well as a lobby with seating area, in-building laundry, bike and tenant storage, and 22 surface parking spaces.
Evergreen Construction Company, a division of Evergreen Real Estate Group, served as general contractor on the project, which was delivered in less than 12 months. "As a result of our processes and vertically integrated team, we delivered Oso on time and under budget," said Andre Pintauro, president of Evergreen Construction Company. "Our experience as a developer informs our work as a general contractor, streamlining everything from pre-construction planning, to procurement of materials — which has become more important than ever amid rising construction costs — to execution of the vision shared by project partners and community stakeholders."
Designed by Chicago-based Canopy Architecture + Design, Oso Apartments features a textured concrete façade with bright yellow metal accents. The entrance includes an art wall featuring a mural design by Chicago artist Miguel A. Del Real. "The mural runs from inside the lobby outside to the exterior wall," said Pintauro. "The artist has completed the interior portion of the mural – a large, bright, colorful work that depicts bees, flowers and honeycombs. The theme ties in with the building's name, Oso, which means bear in Spanish, and the love bears have for honey. The yellow metal accents on the building's exterior resemble honeycombs as well. It's a fun way to incorporate a story and pops of color into the building design."
Residences at Oso feature plank flooring, windows with perforated sun shades, kitchens with wood cabinetry and stainless steel appliances, and baths with a beveled subway tile shower surround. Four corner units have floor-to-ceiling windows in the main living area, while the remaining apartments have Juliet balconies. "Oso has a hip, urban vibe, with exposed concrete flooring and walls in parts of the first-floor common spaces and in hallways on each floor, as well as exposed pipes in residences," said Pintauro.
Oso Apartments is located steps from CTA bus stops along Montrose and Kimball avenues and a half-mile south of the Kimball Brown Line station. The Montrose Blue Line station, which provides access to downtown and O'Hare International Airport, is a 10-minute drive and accessible via the No. 78 bus.
---
About Evergreen Real Estate Group
Founded in 1999, Chicago-based Evergreen Real Estate Group is a fully integrated multifamily company that develops, acquires and manages affordable and market-rate multifamily apartments for both seniors and families across 10 states. Evergreen specializes in thoughtful, creative residential development solutions — from adaptive reuse of historic buildings to new development in cities and towns facing a shortage of affordable housing. The firm is led by a passionate, cross-disciplinary team of developers, architects, urban planners and attorneys who have come together to create high-quality apartment communities, often in collaboration with local municipalities and financial partners who share its vision of investing not just in real estate, but also the people who call our communities home. Evergreen currently owns and manages 8,500 units of multifamily housing.