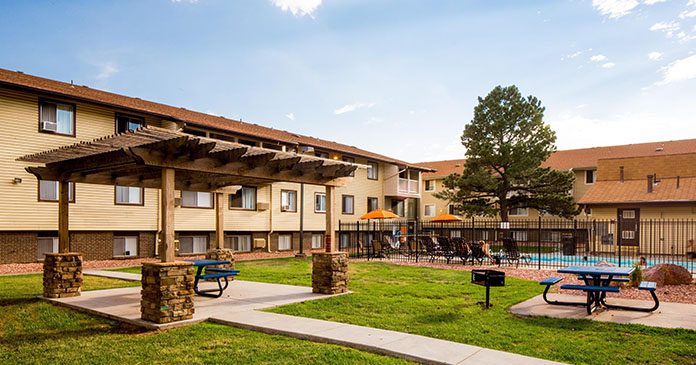 Gelt Inc., a Los Angeles-based real estate investment and asset management firm, announced today it has acquired Timber Lodge for $61 million. The 390-unit value-add apartment community is located about nine miles from downtown Denver at 1769 Coronado Parkway in Thornton, CO.
Terrance Hunt, Shane Ozment, Amanda Meldrum and MacKenzie Walker of Newmark Knight Frank represented Gelt, as well as the seller, BMC.
Built in 1972, Timber Lodge is situated on 12.59 acres and consists of 15 two-story buildings with basements. The unit mix includes 178 one-bedroom units and 202 two-bedroom units. On-site amenities include two swimming pools, fitness center, business center, playground, BBQ area, soccer field, dog park, and carports.
"Although this property has been well-maintained and updated in key areas, Gelt saw this as a prime opportunity to add value by embarking on a strategic renovation of all the unit interiors to include modern finishes such as new stainless steel appliances, vinyl flooring, new plumbing fixtures, two tone paint, painted cabinets, and new light fixtures," said Josh Satin, Director of Acquisitions with Gelt.  "We will also be expanding the gym, adding a new dog park and soccer field, paving all the roads, and adding Amazon package lockers, among other upgrades."
Danny Orland, Director of Investments with Gelt added, "Over the past few years, Denver has become our top market for acquisitions, and we are looking to continue expanding our footprint there over the next 24 months. With this acquisition, we now own 2,000 units over five apartment communities."
The City of Thornton was recently named by Apartment Listas as the Safest City in the US and as the Best Place to Live in Adams County by Niche, and has posted a low apartment vacancy rate of approximately 3 percent.
"We like the Thornton submarket because of its proximity to major employers located along the I-25 corridor, while also being just 15 minutes from downtown Denver," said Jeff Harris, Partner with Gelt.  "Timber Lodge is also ideally situated a few minutes from a number of retail, dining and entertainment options."
Adding to its locational attributes, Timber Lodge is less than five minutes from the future Original Thornton & 88th RTD Light Rail Station. Upon completion, the 18.5-mile commuter line will run from Denver Union Station to Highway 7 in North Adams County. The community is centrally located to some of metro Denver's newest and best retail and entertainment options with Thorncreek Crossing, a 386,000 square foot retail, anchored by Target, Sprouts Farmers Market and Barnes & Noble; The Orchard Town with more than one million square feet of development including REI, and Macy's; The Denver Premium Outlets, a collection of specialty retailers including Tory Burch, Polo Ralph Lauren, Banana Republic Factory Store and Tumi, along with future phases of the development.
---
About Gelt, Inc.
Gelt Inc. is a regional real estate investment and asset management company that seeks to acquire properties in strategic markets in the Western U.S. Since the company's inception in 2008, Gelt has acquired more than 10,300 apartment units, RV and mobile home sites, self-storage units and apartment units in development valued in excess of $1.56 billion. The firm's philosophy is to be a prudent steward for its investment capital, to invest wisely, with confidence and intelligence in emerging, constrained markets. Gelt seeks appropriate risk adjusted returns while achieving income from current cash flow and appreciation through superior performance of its assets.
Gelt consists of a team of real estate professionals that possess a wealth of knowledge and expertise in law, real estate, finance, property and asset management, and construction.
Gelt's affiliated companies include Domuso.com and Gelt Venture Capital. Gelt developed Domuso.com, the first financing-as-a-service resident portal for the $540 billion rental payment industry.  Domuso offers online certified and financing options for move-in payments, one-time rent payments, debt payments, refunds, and late payments.  The company developed its own proprietary risk scoring model to offer point-of-sale financing utilizing rental application data, property operational data, and historical payment history. Gelt Venture Capital is a seed-stage venture capital firm investing in companies capable of making a large global impact. We believe automation, mobility, robotics, artificial intelligence, and space tech form the fundamental technology layer are transforming our world and we focus on applications of these foundational technologies.
The firm strives to stay on top of industry trends and is always on the lookout for new technologies that simplify life for its leasing agents and help its properties run smoothly.