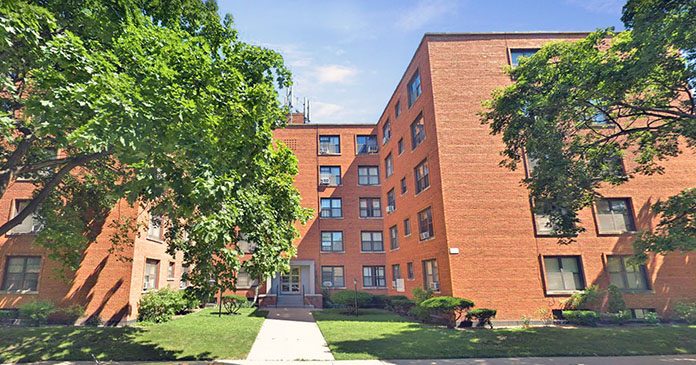 Interra Realty, a Chicago-based commercial real estate investment services firm, today announced it brokered the sale of 2600-2608 W. Rascher Ave., a five-story, 70-unit rental community in Chicago's Budlong Woods neighborhood. The asset sold for $8.55 million, or about $122,143 per unit.
Interra Senior Managing Partner Brad Feldman and Associate Conor McInerney represented both the seller, Ana Crisan, and the buyer, a local real estate developer, in the transaction. The new owner plans a phased renovation of the units, which were nearly fully occupied at closing.
"This sale is the property's first change of ownership in 35 years, which made it especially attractive from an investment standpoint due to the significant upside potential," said Feldman. "Buyers also liked the immediate economies of scale with 70 units and 20 parking spaces, as well as the additional rental income generated by the rooftop cell phone tower. We shared this deal off-market, arranged several tours and received multiple offers."
Located at the corner of Rascher Avenue and Rockwell Street, the courtyard-style building was constructed in 1952 and includes 20 studios that measure 575 square feet and 50 one-bedroom units with 725 square feet of living space.
"The opportunity to update units and increase rents on such a large number of units increased the marketability of the asset," Feldman added.
2600-2608 W. Rascher is two blocks from Lincoln Avenue, home to numerous restaurants and storefronts. It's also close to employment centers including Swedish Covenant Hospital, North Park University and Northeastern Illinois University.
---
About Interra Realty
Founded in 2010, Interra Realty is a Chicago-based commercial real-estate investment services firm that delivers integrated, tailored solutions through its boutique, client-focused approach and team of experienced professionals. Since its inception, the firm has closed thousands of transactions valued in excess of $1 billion spanning the multifamily, office and retail sectors, as well as loan sales. Interra's clients range from private investors and high-net-worth individuals to large financial institutions, private equity groups and hedge funds.