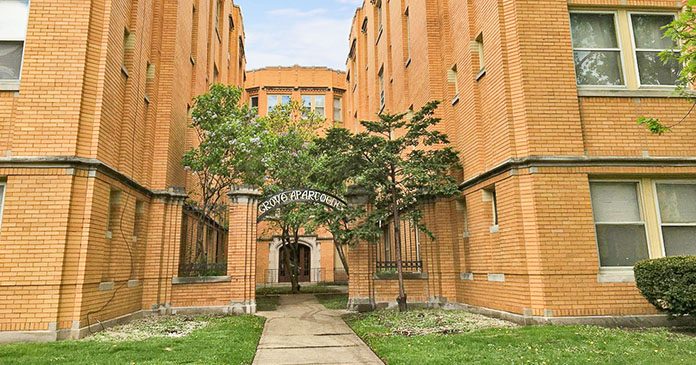 Interra Realty, a Chicago-based commercial real estate investment services firm, announced it brokered the sale of 1917-23 S. Grove Ave., a four-story, 34-unit building in Berwyn, Ill., a western suburb of Chicago.
Interra Managing Partner Pat Kennelly and Director Paul Waterloo represented both the seller, Riverside-based Property Rental Inc., and the buyer, BAM 1917 Grove LLC, which plans to undertake a $1 million gut rehab of the building.
"With rents climbing in the city and inner-ring suburbs, these older apartment communities are attractive options for renters—and so, increasingly, for investors drawn to the higher cap rates they offer," said Kennelly. "Of course, you have to know where to look and what to look for. In this case, it made sense to undertake a full-scale renovation of the property to achieve the desired returns."
1917-23 S. Grove has 32 one-bedroom apartments and two studios. The building was 88 percent occupied at the time of closing.
Prior to hiring Interra, the seller had spent nearly five years trying to secure a buyer, enlisting multiple brokerage firms whose marketing efforts were unsuccessful. Kennelly, who specializes in middle-market multifamily transactions throughout both the city and suburbs, was able to tap his extensive network of investors to procure multiple offers. Now, the buyer is set to close on another building in the area from the same seller in the next 30 days, said Kennelly, who is also representing both parties in that transaction.
"The Grove Avenue property was aging but still had good bones and a desirable location—near transit, with access to quality schools as well as retail and restaurants along Cermak Road," Kennelly said. "These are enduring attributes that support the asset's long-term value, and the investor understood the potential."
The property offers proximity to several bus routes, including those that connect to the CTA's Pink and Blue lines, as well as Metra's Burlington Northern-Santa Fe line. It is also a short drive from the Eisenhower Expressway and employment centers such as the Loyola University Medical Center.
---
About Interra Realty
Founded in 2010, Interra Realty is a Chicago-based commercial real-estate investment services firm that delivers integrated, tailored solutions through its boutique, client-focused approach and team of experienced professionals. Since its inception, the firm has closed thousands of transactions valued in excess of $1 billion spanning the multifamily, office and retail sectors, as well as loan sales. Interra's clients range from private investors and high-net-worth individuals to large financial institutions, private equity groups and hedge funds.