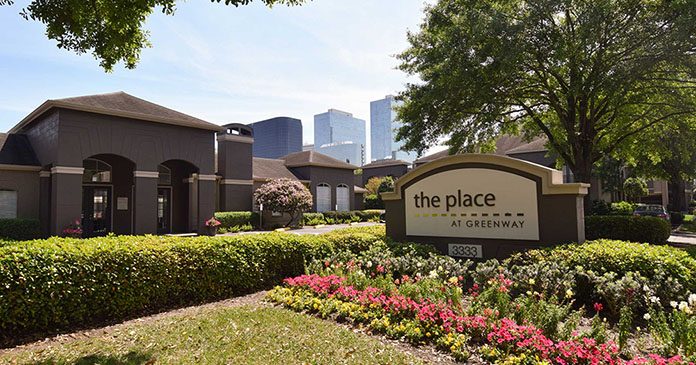 JLL announced today that it has closed the sale and arranged financing of The Place at Greenway, a 219-unit, garden-style apartment community in Central Houston.
JLL marketed the property exclusively on behalf of the seller, Redwood Capital Group. Additionally, JLL worked on behalf of the new owner to secure a five-year, fixed-rate acquisition loan from Ready Capital.
The Place at Greenway is situated on approximately six infill acres at 3333 Cummins Street immediately northeast of the intersection of Richmond Avenue and Weslayan Street in the Greenway Plaza submarket. The property consists of 15 two-story residential buildings with a mix of one- and two-bedroom units averaging 875 square feet. Community amenities include a swimming pool with sundeck, poolside cabanas with outdoor kitchen, modern clubhouse with lounge areas and kitchen, newly remodeled fitness center, yoga room, spin room, business center, pet station and covered parking. The property was 95% occupied at closing.
The JLL Capital Markets team representing the seller was led by Senior Managing Director Chris Curry, Senior Managing Director Todd Marix, Directors Joey Rippel and Chris Young and Analyst Bailey Crowell.
"The Place at Greenway's successful disposition is indicative of investor appetite for workforce housing in Central Houston," Curry noted. "The property's rent gap compared with new construction, its value-add potential and optionality for future alternative uses underscore the opportunities available for workforce housing assets in core locations."
"According to Apartment Data Services, Central Houston has lost 5,773 net Class B, C and D units over the last 10 years, while adding 34,268 Class A units during the same timeframe," Curry continued. "The diminishing supply of workforce housing, now less than 30 percent of available units in Central Houston, and the premium rents and returns obtainable on remaining communities such as The Place at Greenway were very attractive to investors."
JLL's Capital Markets team representing the new owner was led by Director Michael Johnson and Analyst Tolu Akindele.
JLL Capital Markets is a full-service global provider of capital solutions for real estate investors and occupiers. The firm's in-depth local market and global investor knowledge delivers the best-in-class solutions for clients—whether investment advisory, debt placement, equity placement or a recapitalization. The firm has more than 3,700 Capital Markets specialists worldwide with offices in nearly 50 countries.
Deal secured by Holliday GP Corp. ("HFF") prior to being acquired by JLL on July 1, 2019. Co-brokerage services provided by Jones Lang LaSalle Americas, Inc.
---
About Redwood Capital Group, LLC
Redwood Capital Group, LLC is a Chicago-based real estate investment advisor founded in 2007 by David Carlson and Mark Isaacson. The company is focused on value-add and core-plus investments in urban and suburban markets across the U.S. Redwood's mission is to be the foremost choice for institutional and private equity in pursuit of strategic multifamily investment. As of August 2019, Redwood owns approximately 10,000 apartment units and has $1.7 billion of assets under management. Redwood is headquartered in Chicago, Illinois.
About Ready Capital
Ready Capital is a multi-strategy real estate finance company that originates, acquires, finances and services small- to medium-sized balance commercial loans. The company's National Bridge Originations team offers non-recourse financing on transitional, value-add and event-driven commercial and multifamily real estate opportunities. Ready Capital is a direct lender that provides comprehensive financing solutions to real estate owners, investors and small business owners, which generally range in original principal amounts between $3.5-$35 million and larger for select portfolios and assets.
About JLL
JLL is a leading professional services firm that specializes in real estate and investment management. Our vision is to reimagine the world of real estate, creating rewarding opportunities and amazing spaces where people can achieve their ambitions. In doing so, we will build a better tomorrow for our clients, our people and our communities. JLL is a Fortune 500 company with annual revenue of $16.3 billion, operations in over 80 countries and a global workforce of nearly 92,000 as of June 30, 2019. JLL is the brand name, and a registered trademark, of Jones Lang LaSalle Incorporated.