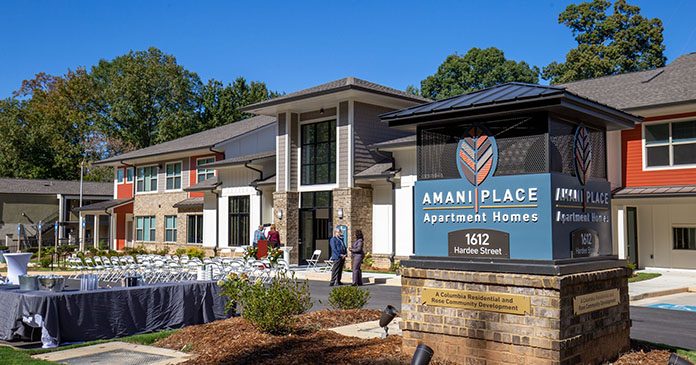 Jonathan Rose Companies, in partnership with Columbia Residential, celebrated the completed $18 million redevelopment of Amani Place (formerly Edgewood Court) with a ribbon-cutting ceremony followed by property tours on Oct. 22. The partners have preserved the garden-style community as affordable housing, with 100 percent of units designated for those at or below 60 percent area median income.
The ribbon-cutting ceremony included remarks by Terri Lee, Chief Housing Officer at City of Atlanta; Atlanta District 5 Councilmember Natalyn Archibong; Dr. Eloisa Klementich, president and CEO Invest Atlanta; Josh Zade, vice president of Affordable Housing Project Management at U.S. Bank; Evan Williams, senior vice president of Originations in Capital One's Multifamily Finance Group; Lisa Creighton, vice president of strategy and development at Center for Active Design; a resident of Amani Place; and Presidents and Founders of partnered development companies, and Jonathan F.P. Rose of Jonathan Rose Companies.
Jonathan Rose Companies and Columbia Residential acquired the property in Atlanta's Edgewood neighborhood in late December 2017 and immediately began the multi-phase redevelopment process. Originally built in the 1950s, then substantially rehabbed in 1981, the former Edgewood Court consisted of 204 units at the time of its purchase, all part of the federal HUD Section 8 program. The rebranded Amani Place community now consists of 222 residences, with 204 remaining Section 8 and the balance as affordable tax credit units. The property's Section 8 contract is renewed for 20 years.
"Atlanta's extraordinary economic success has accelerated the critical need for the preservation of existing affordable housing, and the development of new affordable and mixed income communities, particularly in rapidly transforming areas like Atlanta's Edgewood neighborhood. Amani Place is a wonderful example of the transformation of an older affordable housing community into a greener, safer, more service enriched community," said Rose. "We are grateful for our enduring partnership with Columbia, the passionate engagement of our residents and community stake holders, and for the critical support of Invest Atlanta and Georgia DCA, which was essential to making this transformation possible."
During the redevelopment process, the partners provided accommodations for residents who were temporarily relocated, including school bus service that ensured the community's youngest residents would remain enrolled in the same school.
"Ensuring the needs of residents were met throughout the redevelopment process was among our top priorities. In fact, the name 'amani,' which translates to 'peace' in Swahili, was fittingly chosen by the community's residents," said Jim Grauley, co-founder and partner at Columbia Residential. "This sustainable, state-of-the-art community will enhance lives and serve families for generations. With the help of our partners, Columbia Residential is very proud to preserve and increase affordable housing in Atlanta and welcome both returning residents and new ones to their homes at Amani Place."
In addition to the delivery of two new residential buildings and rehabilitation of existing units, the redevelopment plans focused on several key scope items: energy conservation and sustainability measures with certification under Enterprise Green Communities; health and wellbeing measures certified under Fitwel and participation in Fannie Mae's Healthy Housing RewardsTM program; a vibrant new community and leasing center with modern amenities including fitness center and computer lab that embodies Rose's Communities of Opportunity initiative; a refresh of building facades; roof and gutter replacements; repaving of roads and walkways; new ADA-Accessible Units; interior upgrades including dishwashers as well as updated electrical and HVAC; and, exterior amenities including a community garden and playground.
"Amani Place represents the first affordable housing development in the Southeast region to achieve Fitwel certification, as well as the first to participate in Fannie Mae's Healthy Housing Rewards financial incentive program," said Lisa Creighton, VP of Strategy and Development at the Center for Active Design. "By achieving a 1-Star Fitwel Rating the project demonstrates that any type of building can be designed and operated to support the health of residents, regardless of budget. We are proud to congratulate Jonathan Rose Companies and Columbia Residential on their industry leadership in prioritizing resident health."
Jonathan Rose Companies has partnered with Atlanta-based Columbia Residential as a co-owner, co-developer and long-term property manager. The project was financed largely through an allocation of 4% federal and state low-income housing tax credits, issued by Georgia Department of Community Affairs (DCA), and tax-exempt bonds issued by Invest Atlanta.
"The Georgia Department of Community Affairs is proud to announce the preservation and creation of 222 affordable units at Amani Place in partnership with Jonathan Rose Companies and Columbia Residential," said Ryan Fleming, director, Office of Housing Finance for DCA. "DCA recognizes the growing need for affordability throughout Georgia and the City of Atlanta and will continue to create policies, deploy sources of funding and explore public-private partnerships which help promote the preservation of affordability in Atlanta and the creation of new affordable units."
Located at 115 Marona Street, Amani Place is situated just 10 minutes east of downtown Atlanta and less than one mile from the popular Kirkwood neighborhood which has experienced rapid gentrification in recent years, following an influx of new condos, apartments, restaurants and retail establishments along the nearby Atlanta BeltLine. The Kirkwood-Edgewood area experienced a 9.5 percent rent spike in 2016, and the median sale price for a home in Edgewood has tripled in the last five years.
"The preservation of existing affordable housing is critically important for equitable development in Atlanta," said Klementich. "With significant enhancements to the property, the 222-unit Amani Place will be a vital community asset with lower-income affordability that allows existing residents to reside in Edgewood for years to come as the community continues to grow with new investment."
---
About Jonathan Rose Companies
Jonathan Rose Companies is one of the country's leading developers and investors in sustainable, affordable and mixed-income multifamily real estate, with nearly 15,000 units owned or managed. Founded in 1989, Jonathan Rose Companies is a mission-driven company focused on enhancing the health and wellness of our residents through its Communities of Opportunities programming, while also working to make its properties greener and more energy efficient. With offices in New York, Connecticut, Colorado, California and Ohio, Jonathan Rose Companies has developed or acquired more than $2.5 billion of real estate.
About Columbia Residential
Founded in 1991, Columbia Residential is an integrated real estate firm comprised of master planning, development, project management, construction managements, property and asset management and tax credit compliance with a focus on mixed-finance, multifamily rental properties. Based in Atlanta, Columbia Residential creates communities with purposeful architectural design, sustainable construction and a sincere commitment to the community, its surrounding neighborhood and, most importantly, residents. Since its founding, Columbia Residential has won more national awards for architectural excellence than any other housing provider.