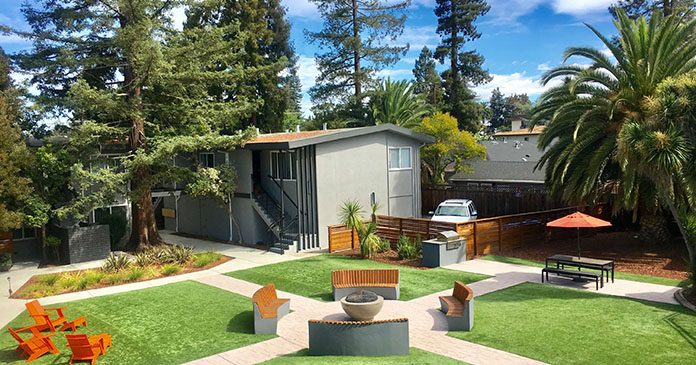 Levin Johnston of Marcus and Millichap, one of the top multifamily brokerage teams in the U.S. specializing in wealth management through commercial real estate investments, has directed the $11.7 million sale of Woodside North, a fully renovated 22-unit multifamily community in Redwood City, California.
Executive Managing Director Adam Levin and Senior Managing Director Robert Johnston represented the seller, a private high net worth investor, in the transaction.
"The investment appeal of this asset is driven by Redwood City's strong employment fundamentals and low vacancy levels," explains Levin. "Woodside North is situated in the historic downtown area of Redwood City, one mile away from the core downtown district, which is a catalyst for additional urban development and attracts high-caliber residents. Drawing upon our deep expertise in market demands and local relationships, we were able to achieve a premium sale price for our Client."
This sale was a rare opportunity for the buyer to acquire an extensively renovated asset in the Bay Area's Mid-Peninsula region, one of the strongest rental markets in the country, notes Levin.
The community is situated within walking distance of several shopping, dining, and entertainment options in an attractive, pedestrian-friendly district in the heart of Silicon Valley. The property is in close proximity to major local employers, Stanford University, and transportation corridors, with convenient access U.S. Route 101 and Interstate 280, as well as San Mateo and Dumbarton Bridges, providing direct access throughout the Bay Area.
"Woodside North is a short commute from several of the nation's top tech employers including Google, Oracle, Facebook, Visa, and Sony, to name a few," says Johnston. "The Bay Area economy—which saw 5,100 jobs added to the market in August alone—continues to be driven by the tech industry sustaining the high demand for apartment communities for professionals throughout the region. The buyer of this property will benefit from this growth going forward."
The apartment community, which offers an attractive mix of one-, two- and three-bedroom floor plans, was built in 1961 and strategically upgraded by the seller in 2018 through interior and exterior renovations.
"Through implementing a series of renovations to modernize the look of the community, as well as providing in-demand resident amenities including washers and dryers in every unit, the seller was able to bring a highly sought-after property with strong in-place cashflow to market, attracting several competitive offers," continues Johnston.
The newly renovated units offer high-end designer finishes, dual pane windows, modern hard flooring, and fresh paint. Community amenities include a central courtyard with fire pit and picnic area, private garage and covered carport parking, and additional storage rooms.
Woodside North also offers a fully furnished, corporately leased two-bedroom unit with full-service third-party management, an increasingly attractive option for major local employers.
The property is located at 1551 Regent Street in Redwood City, California.
Levin Johnston has completed over $300 million in sales in 2019 to date, demonstrating continued health in the commercial real estate market in this region.