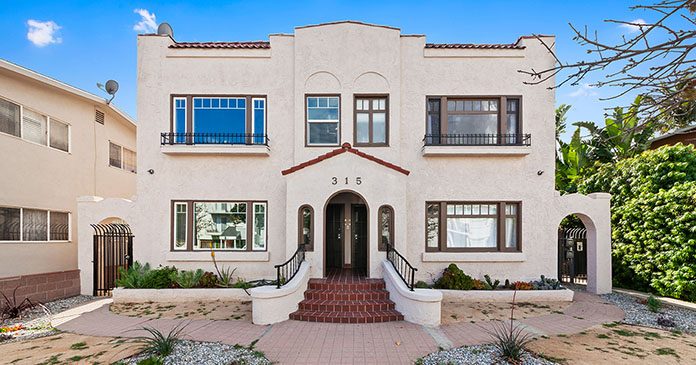 Stepp Commercial, a leading multifamily brokerage firm in the Los Angeles market, has completed the $3.05 million sale of an 8-unit apartment property located at 315 Cherry Avenue, in the prime Alamitos Beach neighborhood of Long Beach, CA.
Principal Robert Stepp and Vice President Mark Witsken of Stepp Commercial represented the seller, LMDG Real Estate Value Fund II Holdings, an active investment group in the Los Angeles area.
The buyer was Los Angeles-based family office. The closing cap rate was 4.9 percent and the price per unit was $381,250, a high price for the area.
Built in 1923, the building includes six one-bedroom units and two studio units with charming 1920's built-ins, interior French doors and modernized kitchens and baths.
"The seller is known for his quality renovations," said Stepp. "He acquired the property, remodeled and landscaped it, and was able to see a high return within one year."
"Alamitos Beach is a highly coveted residential location with apartment rents about 19 percent higher than the average rent of greater Long Beach," said Witsken. "With an asset of this quality in this neighborhood, we garnered a lot of interest and we were able to sell at a very strong price per unit."
Situated between downtown Long Beach and Belmont Shore is the popular coastal neighborhood of Alamitos Beach. The area is within minutes of the best that Long Beach has to offer. Residents can walk to the wide sandy beach, bike path and volleyball courts, as well quaint bars and restaurants along the Broadway Corridor and trendy shops, restaurants and bars on Fourth Street-Retro Row.
---
About Stepp Commercial
Stepp Commercial is a brokerage firm specializing in the multifamily property sector. Stepp Commercial's mission is to provide apartment owners with a fully integrated sales platform that includes comprehensive market knowledge and local real estate expertise to successfully complete any type of multifamily transaction.