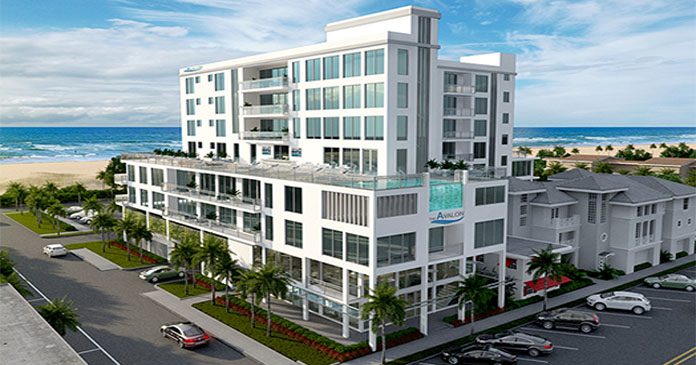 The developer of the planned Avalon Beach Club in Clearwater Beach obtained a $16 million loan from Trez Forman Capital for the project. Most of the condominiums in the 34-unit building are expected to be operated as short-term rentals.
The loan to Avalon Club, LLC closed on September 27. Trez Forman President and CEO Brett D. Forman arranged the transaction.
Located at 24 Avalon St., the 8-story Avalon Beach Club will include 41 parking spaces throughout the first and second floors and condominiums on the remaining six floors. Amenities include an on-site fitness center, rooftop swimming pool with a bar and lounge, smart home features and housekeeping services.
The borrower assembled the project site from 2013 to 2018, and demolition of existing structures on the properties is set to begin shortly. Condo buyers have the option to lease their units for short-term rentals.
Short-term rental agreements have been reached with the buyers of most of the 24 pre-sold units. The borrower plans to retain the remaining 10 units and operate them as such.
"Clearwater Beach is ranked one of the top beach destinations in the country, so there is intense demand for short-term rental product near the beach," said Forman. "We continue to seek construction opportunities in the Tampa-St. Petersburg-Clearwater MSA, which continues to have strong employment and population growth, mainly driven by Tampa's robust economy."
Trez Forman provides commercial bridge loans for development and construction and senior stretch financing, starting at $5 million. It also offers private and institutional investors equity investment opportunities in a variety of funds and assets.
---
About Trez Forman Capital
Founded in 2016, Trez Forman Capital is a Palm Beach, Florida-based commercial bridge lender for development and construction, senior stretch first mortgages and special situations nationwide. It provides developers and property owners with quick approvals on flexible short to mid-term financing from $5M to $75M. Trez Forman has funded nearly $1 billion in loans since inception. The company also offers private and institutional investors equity investment opportunities in a variety of funds and assets. Trez Forman is a joint venture between Palm Beach-based Forman Capital and Trez Capital Group, one of Canada's largest private commercial mortgage lenders with approximately $3 billion in committed capital. Trez Capital has originated approximately $10 billion in loans since its inception.