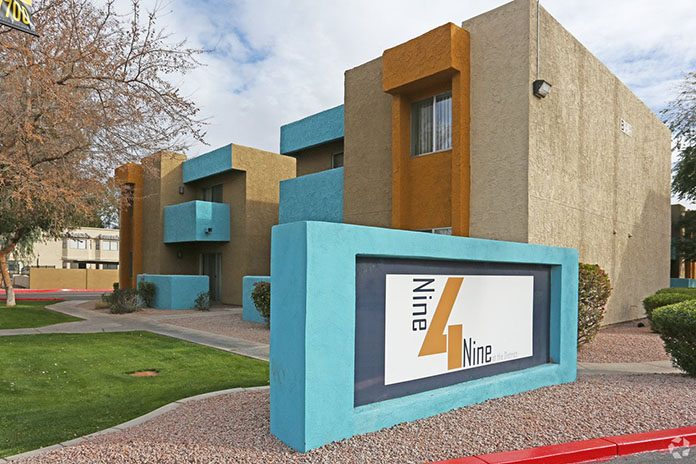 Westmount Realty Capital announced the acquisition of 949 at the District, a 154-unit multifamily community located at 949 South Longmore St. in Mesa, near Phoenix. Built in 1979, 949 at the District offers one- and two-bedroom floorplans that average 825 square feet. Westmount will rebrand the property as Westmount at the District. This deal marks the real estate investment company's first acquisition in Arizona and first multifamily purchase outside of Texas.
"Westmount has been tracking the Phoenix market for years and 949 at the District presented us with the opportunity to enter the region with the acquisition of a well-constructed, vintage multifamily property with a substantial value-add potential," said Michael Anderson, managing director of multifamily acquisitions for Westmount. "We plan to revitalize the community with interior renovations, smart home offerings, upgrades to the amenity package and improved on-site management."
Planned in-unit renovations include resurfaced counters, stainless steel appliances, refaced cabinets, faux-wood flooring, upgraded lighting and new hardware. Westmount will also offer smart home technology for residents, which will include a smart thermostat, smart lock and USB outlets.
In addition, Westmount will install a package locker system on the property and will implement a new valet trash program. Additional amenities offered at Westmount at the District include two large swimming pools, an attached clubhouse and leasing office, fitness center, outdoor grilling stations, an on-site dog park, restricted entry and covered parking.
Westmount at the District is less than a mile from Mesa's revitalized Fiesta District, an important business district. The Fiesta District is currently undergoing a $500 million redevelopment transformation to create a more vibrant, pedestrian-friendly, active urban destination. The community is also less than a mile from Fiesta Mall, which will be redeveloped into a 1.3 million-square-foot education and healthcare campus that will include restaurants and entertainment. Major employment hubs near Westmount at the District include Banner Desert Medical Center, Santander Consumer USA, Mesa Community College, in addition to several healthcare and retail centers.
Located less than 2 miles south of the Valley Metro Rail, residents of the community will have easy access to downtown Tempe, Phoenix and Phoenix Sky Harbor International Airport. The project is also less than 2 miles from U.S. 60 and U.S. 101, and 7 miles from I-10, all major thoroughfares in the Phoenix region.
"We are excited to enter the Phoenix market with the acquisition of 949 at the District," said Clifford Booth, CEO of Westmount. "Westmount is in a period of strategic growth and we are actively looking for multifamily acquisition opportunities in key markets with strong fundamentals and steady job gains throughout the Southwest."
Westmount has strategically chosen to engage Shelton Residential for property management of Westmount at the District.
In addition to 4,011 units of multifamily space in key markets in Texas and the Southwest, Westmount Realty Capital has a portfolio of 12 million square feet of industrial and office space throughout the Midwestern and Southern regions of the U.S.
---
About Westmount Realty Capital
Westmount Realty Capital, LLC is a privately held, commercial real estate company headquartered in Dallas, that has achieved exceptional performance and time-tested results for more than 30 years. Westmount is a leading edge, relationship-driven company that is seen as an innovator and is a trusted operating partner to numerous U.S. and foreign institutional and private capital sources. The company is active throughout the U.S., specializing in value add and opportunistic investments, and has navigated successfully through multiple market cycles.