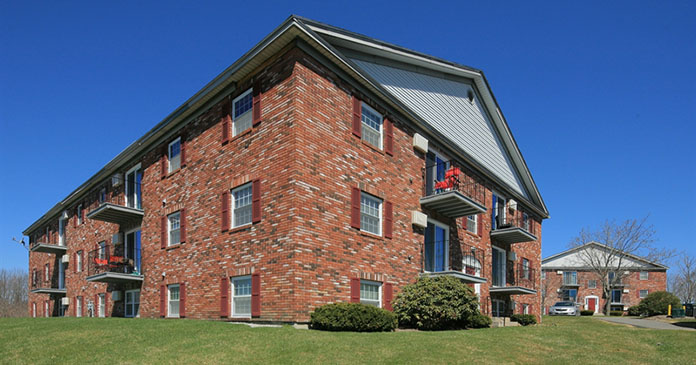 The CBRE Capital Markets team announced the sale of Highwood Village located at 174 Saint Anselms Drive in Goffstown, New Hampshire, for $12,000,000.
CBRE multihousing experts Simon Butler and Biria St. John exclusively represented the seller, First Merchants Group, and procured the buyer, Yellowstone Property Group.
Highwood Village is a 121-unit community comprised of five, three-story residential buildings, a four-bedroom single-family home and a two-story amenity building. The three-story residential buildings were built in 1984 while the single-family home both originally constructed in the early 1900s. The amenity building is a two-story prefab building constructed in 2000. Spread out over 9.65 acres, Highwood Village offers a low-density community with an abundance of open space. There are three picnic areas, one with a grilling area, a playground, and tennis courts on-site for residents.
Highwood Village benefits from a convenient location with excellent access to major employers, highways and retail amenities. The communities' proximity to Downtown Manchester as well as major highways provides access to major employers throughout Southern New Hampshire and into Massachusetts, which is just 30 minutes away. Just off U.S. Route 3 and Interstate 293, the community neighbors Manchester, the State's largest city. Additionally, residents are also just 15-minutes from the Manchester-Boston Regional Airport.
Residents at Highwood Village are just minutes from Market Basket, Trader Joe's, Hannaford, Target, numerous dining options and more. Just 10 to 15 minutes east, Manchester is home to 8 million square feet of retail space, including local coffee shops, a number of grocery stores, nearly 400 restaurants and dining options, and more. Also the community is proximate to The Mall of New Hampshire, a 930,000-square-foot regional mall anchored by Macy's, JCPenney and Best Buy, and is home to over 100 other retailers and dining options.