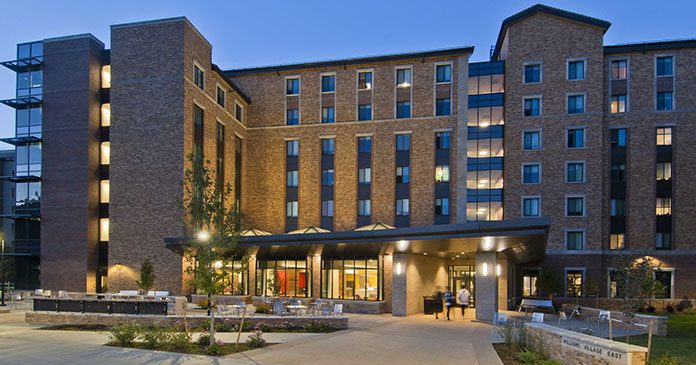 The new Williams Village East residence hall at the University of Colorado Boulder proudly welcomed its first students in August for the fall 2019 semester. The 178,000-square-foot residence hall, the university's largest, houses a total of 705 students.
The $96.7 million residence hall was designed by St. Louis-based KWK Architects as part of the design-build team, which also included architect-of-record alm2s of Fort Collins, CO and Whiting-Turner Contracting Company of Denver, CO.
"We are extremely proud of the design that we created for the University of Colorado Boulder," said KWK Principal Javier Esteban. "The building features a number of sustainable elements, and really takes into consideration the needs and desires of the university and its students."
Construction on Williams Village East began in August 2017 on the south side of Baseline Road at approximately 35th street. The building sits just east of the Williams Village North residence hall on a site formerly occupied by a parking lot and four tennis courts that were no longer in use.
Important aspects of the seven-story hall's design is its sustainability, dedication to student privacy and focus on community.
Williams Village East features a new bathroom design that gives each student maximum privacy. The gender-neutral, individual bathrooms each include a shower, sink, toilet and changing space to accommodate student requests for more privacy.
Williams Village East was designed to achieve a LEED Platinum certification under LEED v4. Some of its sustainability features include numerous windows to let in natural light and windows with electrochromic glazing that adjust the shading based on the time of day and year. A pond that uses ditch water from snowmelt supplies the Williams Village Campus and saves the campus 13 million gallons of water per year.
The windows in the student bedrooms feature magnets that turn off the heating or cooling systems when the windows are opened, and a vacancy sensor in each room turns off the lights and turns down the heating or cooling levels when students leave the room. A black switch turns off "phantom loads," or electronics that are left plugged in when not in use to conserve electricity.
Other renewable energy features of the building include solar panels, LED lighting, recycling areas, green outlets, thermostats in each room, low-flow toilets and urinals, door closers and a VRF HVAC system.
Sustainability is also playing a role in building community in the new hall by grouping floors into sustainability teams that compete to use the least amount of water and energy. Winning teams can earn community reward parties throughout the semester.
Community wellness is also promoted in the building's wayfinding graphics which feature photography of local Boulder nature destinations. The destinations are also mapped out on a full-scale wall map in the first-floor game room, encouraging students to get out and find the featured destinations.
Another way community and student interaction is promoted is in the main level great room, which features a community center staffed by students that includes a kitchen and living room area, plus a gaming area with large televisions hooked up to Sony PlayStation 4 and Nintendo Switch, plus other games.
The Williams Village East exterior was designed to match the architectural style and finish of Williams Village North, which opened in August 2011.