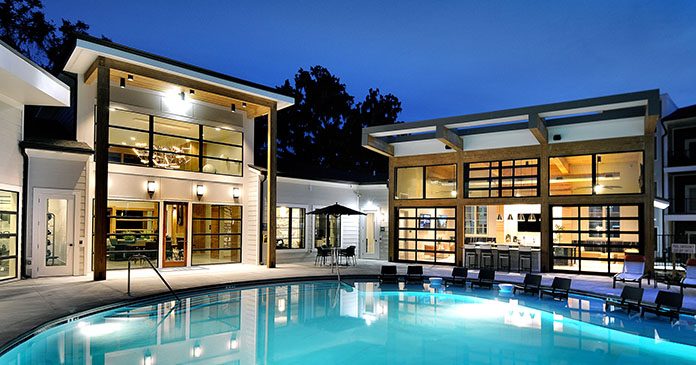 Cushman & Wakefield has arranged the $48.2 million sale of The Ellis, a 235-unit apartment community located in Savannah, Georgia. Robert Stickel, Taylor Bird and Alex Brown of Cushman & Wakefield represented the sellers, Brand Properties and Mariner Group, in the transaction. ECI Group acquired the property.
"This top-notch development by Brand Properties and Mariner Group, coupled with Savannah's emergence as a highly dynamic and desirable market, make The Ellis a special opportunity," Stickel said. "The property's strong lease-up performance was a sign of substantial growth. ECI Group's vision and execution awarded them with a strong performing asset in a strategic location."
Completed in 2019, The Ellis represents one of Savannah's only amenity-rich, true Class A multifamily assets near Downtown. The Ellis is Savannah's newest and most upscale apartment community, offering a vacation-style atmosphere and representing the ultimate in modern residential construction nestled within an irreplaceable setting amongst live oak trees.
"The Ellis is a timeless Class A apartment community located near Downtown Savannah," Bird said. "The property's strategic location provides direct connectivity to a plethora of retail, dining, entertainment, and jobs, as well as convenient access to the barrier islands. The Ellis will continue to benefit from Savannah's growing population, as well as the city's prolific economic drivers and job growth."
The Ellis, and neighbor Mariner Grove, are both nestled within a 300-year old oak grove, representing the ultimate in Savannah luxury living, boasting comprehensive amenity packages including resort-style pools, expansive fitness centers, dog parks and free parking. Mariner Grove was the first development by Brand Properties and Mariner Group to supply downtown Savannah with conventional Class A rental product, its success led to the development and now sale of The Ellis.
Cushman & Wakefield's Sunbelt Multifamily Advisory Group ranks No. 1 in Sunbelt market share based on more than $4.8 billion in multifamily investment sales through the third quarter (Source: Real Capital Analytics). Market share reflects sales for Alabama, Arkansas, Northwest Florida, Georgia, Kentucky, Louisiana, Mississippi, North Carolina, South Carolina, Tennessee and Texas.