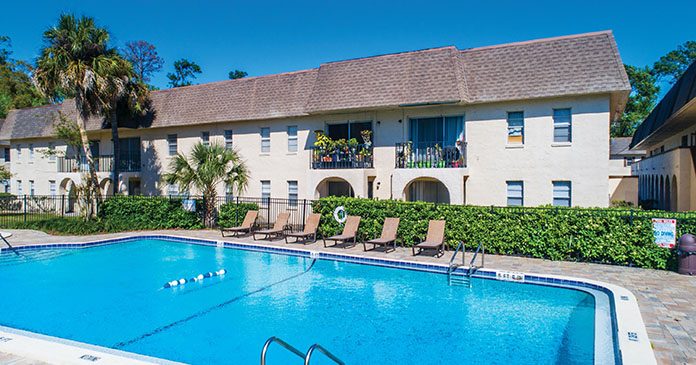 Cushman & Wakefield has arranged the sale of Park Village Apartments, a 120-unit, garden-style multifamily community in the Jacksonville MSA.
Executive Directors Mike Donaldson and Nick Meoli of Cushman & Wakefield's Florida Multifamily Investment Sales Team represented Dr. Rajan Rakheja in the disposition. A joint venture of Mayfair Investment Partners and Navarino Capital Management acquired the property for $10.85 million ($90,400 per unit).
Park Village Apartments was developed in 1968 on a ±6.5-acre site at 741 Park Ave. in Orange Park. The Clay County community comprises 15 two-story, concrete-block buildings and sits a half-mile from Interstate 295, affording the property excellent transportation access across Jacksonville.
Mayfair Investment Partners and Navarino Capital Management intend on overhauling the property to bring the curb appeal, unit interior, and living quality to mirror the property's exceptional location and desirable large unit mix catering to families and working professionals.
Park Village Apartments was 93 percent occupied at the time of sale. The average unit is 966 square feet.
"Park Village is a well-located community in the desirable Orange Park submarket with a viable value-add play that the new owner plans to take advantage of," says Donaldson. "Building off of a partial renovation by prior ownership and tremendous renter demand for upgraded units in the surrounding area, there is an opportunity to push market rents over $200 by way of additional unit renovations and common area enhancement."
"The property is an excellent addition to the portfolio of Mayfair and Navarino, who also own in Atlantic Beach and are looking to further expand in the Jacksonville MSA," added Meoli.
"Mike and Nick demonstrated savvy and poise in navigating the property sale. They are an impressive duo with whom we very much enjoy interacting and working together," said Mayfair Investment Partners principal Jonathan More.
Cushman & Wakefield's Florida Multifamily Team is directed by Robert Given and includes Donaldson and Meoli as well as Luis Elorza and Brad Capas in West-Central Florida; Jay Ballard and Ken Delvillar in Central Florida; and Zachary Sackley, Troy Ballard, Calum Weaver, Errol Blumer, Neal Victor, James Quinn and Perry Synanidis in South Florida. Robert Kaplan, Chris Lentz and Mark Rutherford facilitate debt, equity and structured finance for the team throughout Florida.
---
About Cushman & Wakefield
Cushman & Wakefield is a leading global real estate services firm that delivers exceptional value for real estate occupiers and owners. Cushman & Wakefield is among the largest real estate services firms with approximately 51,000 employees in 400 offices and 70 countries. In 2018, the firm had revenue of $8.2 billion across core services of property, facilities and project management, leasing, capital markets, valuation and other services.